Spotlight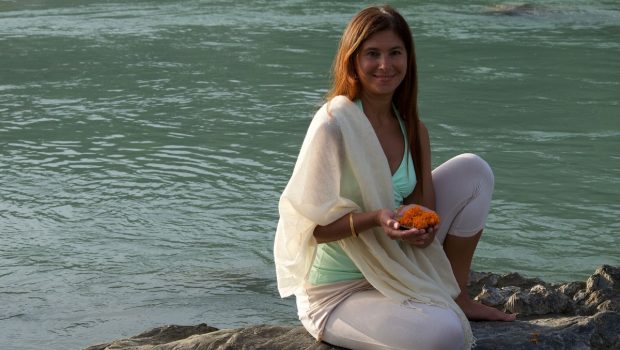 Published on August 29th, 2018 | by María E Garré
0
The Many Blessings of Yoga and Ayurveda
by Maria Garre
Yoga has blessed my life since 1996 and it's a gift that can support all. My yoga journey is one that started from a physical need to move my body in a different way. To stretch, bend, strengthen and learn new shapes all seemed like a great way to keep my body happy. Little did I know, it would transform my entire being and sense of Self.
The physical challenge of stretching, breathing and strengthening all intrigued me and kept me returning for more. Slowly, I discovered there was more than my body moving. It seemed that breath informed me and my cells were speaking and all was changing. I felt different. Suddenly I would remember to breathe in regular daily living to help me calm down, for example. Randomly, yoga poses would come, or I would sit on the floor instead of a couch more easily.
A few years in, something called meditation suddenly piqued my interest. I tried it and although I hated it, knowing it was good for me, I didn't banish it completely. However, the impossibility of quieting my mind and falling asleep were real struggles. Slowly the possibility of sitting for small periods of time were less of a struggle and sitting quietly were a reprieve from the hectic pace of the world. Soon after realizing yoga was part of my life journey, everything merged. All became one: life, mind, yoga, relationships, food choices, lifestyle, etc. and a unified sense of living came over me.
Through yoga, I learned of Ayurveda, the medical healing science of India. As a student of Biological Sciences, I dove deep with Ayurveda, this ancient integrated medical science for healing brought forth much living tools and wisdom. Just simply using turmeric for a cut to stop bleeding minimized my need for a band-aid which in turn helps cut down on plastic waste. Truly conscious living is that simple—if we choose it. I will forever be a student in this vast philosophy and now sharing and teaching this wisdom has become a life mission.
This journey was guided by amazing teachers and mentors that modeled and brought yoga and Ayurveda to life as a practice and way of moving all parts of you in the world. This awakened consciousness that teachers transmit to the students is the transmission of yoga, and I bow to my teachers that awakened more than just my hips.
As a teacher and professional within the world of yoga, I love to hear student's stories of what brings them to the practice and wisdom of yoga beyond just Downward Dog; and, also how that same Downward Dog has wisdom itself. And hence, the depth and practice of yoga is broad, while at the same time it can be narrow enough to reach everyone.
Fast forward to 2018, my life mission transforms into a School of Yoga, the New Mexico School of Yoga (NMSY) where my vision and mission can be realized. It's a place where the profound wisdom of yoga and Ayurveda can be offered as an integrated approach to living life fully and wisely and as as a way empower all with health, vitality and peaceful living. From fostering certified teachers of yoga and professionals to awakening knowledge in beginners and novice students, the teachings are accessible to everyone. The human condition remains the same as we all seek inner peace and tranquility. Knowledge is power and the power is life.
The New Mexico School of Yoga is a place of learning, expanding and integrating the ancient teachings into one. NMSY presents options outside the classroom through life transforming world-wide retreats and online courses that allow you to learn and explore various aspects of yoga, Ayurveda and more. For more information visit nmSchoolOfYoga.com.