News Briefs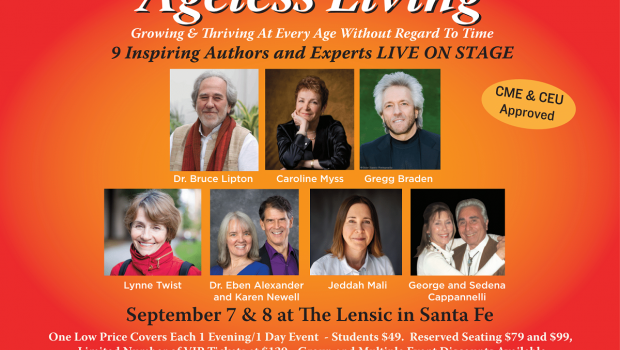 Published on August 29th, 2018 | by Natural Awakenings Publishing Corp.
0
Ageless Living Series Conference Finale
The Ageless Living Series Conference Finale is being held September 7 and 8 at the Lensic Performing Arts Center in Santa Fe. "It's time to learn, celebrate, laugh, share and take our next steps—individually and collectively—on the road to inheriting more vitality, creativity, abundance, meaning and purpose, " shares conference facilitators George and Sedena Cappannelli. Conference speakers include: Bruce H. Lipton, Ph.D., internationally recognized leader in bridging science and spirit, bestselling author of The Biology of Belief and recipient of the 2009 Goi Peace Award. He has been a guest speaker on hundreds of TV and radio shows. Caroline Myss is a five-time New York Times bestselling author and internationally renowned speaker in the fields of human consciousness, spirituality and mysticism, health, energy medicine, and the science of medical intuition.
Gregg Braden is a New York Times bestselling author who is internationally renowned as a pioneer in bridging science, ancient wisdom, and the real world. He is the author The God Code, The Divine Matrix, Fractal Time and Deep Truth. Lynne Twist has been a recognized global visionary committed to alleviating poverty, ending world hunger and supporting social justice and environmental sustainability for more than 40 years. She is the author of The Soul of Money: Transforming Your Relationship with Money and Life.
Eben Alexander and Karen Newell are co-founders of Sacred Acoustics. Newell, an innovator in the emerging field of brainwave entrainment audio meditation, empowers others in their journeys of self-discovery. Eben Alexander III is an American neurosurgeon and the author of the book Proof of Heaven: A Neurosurgeon's Journey into the Afterlife. Jeddah Mali began a spiritual quest at age 20, traveling to Asia to study with the great masters of consciousness, including His Holiness the Dalai Lama. Today she works with others in 60 countries offering a new approach to the age-old dilemma of how to make personal life, organizations and society work.
George and Sedena Cappannelli, co-founders of AgeNation and Empower New Mexico are also award- winning authors and tireless champions of redefining what it means to live consciously and age wisely in this time of demographic.
For more information and to register, visit AgelessLivingSeries.com.