Spotlight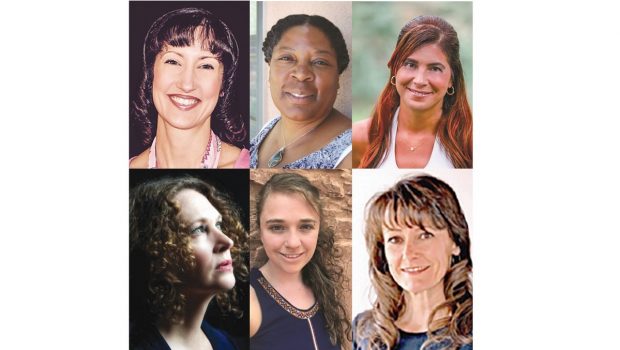 Published on August 1st, 2018 | by Natural Awakenings Northern New Jersey
0
OUR LOCAL HEALING COMMUNITY
Supporting Multilevel Healing
Empath and Intuitive Training/ Equine Therapy
Your Divine Light at Unicorn Mesa Chantal Fidanza, founder 505-438-1074 – Santa Fe (San Marcos Area) YourDivineLight.biz
Chantal Fidanza learned to anchor her gift as an empath through her own healing and learning. "As an empath, I suffered all of the difficulties of being hyper-sensitive to energy: energetic overwhelm, mysterious symptoms, fatigue. Having learned to manage my energy, and anchor this gift, has allowed me to now show others how to transform this 'burden' into an extremely powerful asset.
The results of this work are deeply transformative: having the ability to manage own's energy, to filter out what does not belong to you and to keep and anchor our highest selves. "This allows us to live from a place of empowerment, deeply rooted in our greatest wisdom and having the ability to create our lives from that light space," affirms Fidanza. "My focus is always to help those I work with to recognize and trust their own wisdom, which is the most empowering gift I feel I can offer."
Holistic Singing and Voice Guidance
Holistic Voice Lab Marie Black 503-688-0008 – Albuquerque MarieBlackStudio.com
Marie Black from Holistic Voice Lab had a thriving healing arts practice in organic skin care and massage. When she brought voice events and lessons into her practice in 2012 she discovered voice to be exponentially more intimate than bodies. "We hold much fear and defensiveness around our voices. Many people have been vocally shamed," says Black, who has been on her singer's journey since age six. She is a performing songwriter, a lifelong music student, and holds a BA in holistic psychology. With her healing arts background she guides students into their authentic singing and speaking voices through classic vocal ease exercises and improvisation. She works with beginners to professionals helping them discover and release the tensions constricting their pure sound.
"Benefits to singing include increased joy, lessened cortisol levels, community connections, heart health, better posture, increased breath capacity and a boost in self-confidence to bring to daily life," asserts Black.
Reiki Energy Healing
Energy Healing with LaGina LaGina Glass, RMT – Santa Fe O: 505-819-0811 C: 505-577-4944 LaGinaGlass.com
LaGina Glass was drawn to the fact that reiki is a spiritually guided life force energy modality. "Meaning, as a practitioner, I am in the role of healer, but the healing energy is channeled from Source/Universe/God. It is critical that I stay open to the energy and not allow my ego to believe that I am the healer," says this practitioner.
Her education in healing began in 2011 when she began having psychic experiences. "They were challenging for me to understand. I took a twelve-week intuitive certification where I was able to find understanding in my experiences and learn to work with my gifts. This led me to the healing art of reiki. Over the years I have created a line of reiki infused, aromatherapy and jewelry products all designed to offer continued healing," she says.
Glass says her clients regularly experience relief from stress, depression, grief, pain and other forms of low energy.
Spiritual Development
Brennan Healing Science Nina Twombly 505-919-8296 – SantaFeNinaTwombly.com
Specializing in helping conscious women create fulfilling relationships and enhance their spiritual development, Nina Twombly supports clients in integrating the spiritual dimensions of life with balanced, fulfilling relationships, fun, and success in outer life. She has dedicated her life to deep energetic work after discovering its benefits in her own life. She has studied with healing masters in Peru and received a four-year degree in energy medicine from the Barbara Brennan School of Healing in 2010. She has helped hundreds of clients connect with their authentic spirituality to create fulfillment in partnership and in life.
Her clients appreciate and admire Twombly's approach, which address many levels at once. She is able to evaluate and address issues like a therapist and work on the body and spirit as a shaman, with the result being a profound experience of new awareness and insight.
Clinical Herbalism and Trauma Release
Native Roots Herbalism and Healing School Morgaine Witriol, founder 914-400-7558 – Taos, NM NativeRootsHealing.com
Morgaine Witriol is a Certified Clinical Herbalist, intuitive healer and founder of Native Roots School of Ancestral, Folk and Indigenous Medicine in Taos. She works to remove energetic and emotional block ages from the body that often contribute to physical ailments and disease, allowing the body to heal itself. She uses tuning forks, Tibetan singing bowls and often teaches lymph drainage techniques. Her main modality is being a channel of support to the healing which chooses to come be it herbs, flower essences, or energetic trauma release.
Witriol apprenticed with the late Mayan medicine man Don Heriberto Cocom in the rainforest of Belize and Grandma Muna, an herbalist and acupuncturist in Taos. She continued her studies at the Northwest School for Botanical Studies, California School of Herbal Studies, The Blue Otter School, The Dandelion Herbal Center, and at the Acutonics Institute of Integrative Medicine.
Yoga and Ayurveda
New Mexico School of Yoga Maria Garre, founder 1111 Carlisle Blvd. SE, Albuquerque 505-268-0918 MariaGarre.comNMschoolofYoga.com
The New Mexico School of Yoga offers various workshops and certification/training opportunities in both Ayurveda and yoga therapy. From basic beginner courses to advanced training for healing practitioners alongside yoga teacher trainings, the school offers many options. Both online and on-campus in Nob Hill, students can learn and empower self-healing. "In addition, we offer healing retreats, seasonal detoxification programs and Ayurvedic Yoga Therapy sessions," says Garre, who chose yoga and Ayurveda because both modalities offer a way to support healing through conscious breath, movement and living practices.
"From weight loss to a calm sense of being, Ayurveda and yoga-based therapies offer students the tools necessary to go beyond their sessions to live in a more mindful, healthful way," affirms Garre. "Each session is an opportunity to learn, evaluate and reflect so that we transform the way we live."
Peaceful Retreat Center
Vista Verde Retreat Center Elizabeth Brownrigg, founder 575-758-2758 – Carson, NM VistaVerdeRetreat.com
Elizabeth Brownrigg shares that providing a beautiful respite for healing and creativity has been her lifelong dream. "As the owner of Vista Verde Retreat Center here in Carson, it makes my heart sing when my guests say things such as, "This venue certainly encouraged our creativity and our ability to form a community quickly", or "… a peaceful environment which allowed us to go within and experience oneness", or "… sacred surroundings, inside and out".
Elizabeth is very passionate about helping people reconnect with themselves and others, and spending time in peaceful, natural surroundings like Vista Verde Retreat can help to facilitate this. Additionally, she has been doing clairvoyant readings for nearly 25 years and loves making a powerful and positive difference in people's lives in this way. "To book a reading, a retreat, or just to get away, please contact me," she invites.