Local Insights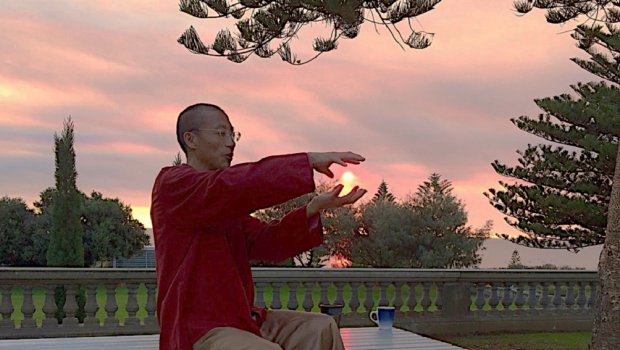 Published on June 27th, 2018 | by Master Mingtong Gu
0
The Many Forms of Qigong
by Master Mingtong Gu and the Chi Center Staff
You may have heard of many different forms and/or lineages of Qigong, each with different emphases and expressing different aspects of qi—gong or energy—cultivation.
All forms of qigong aim to move us toward the same ultimate goals—a clear and calm state of mind (enlightenment) and cultivation of a vibrant life and legacy (immortality).
Think of the various qigong types as different dimensions of one collective—one whole. Qigong methods like tai chi, martial arts, restorative healing or spiritual development can often focus on one or two practices that might include breathing, visualization, sound, meditations, movement, ritual and/or prayer.
Because Wisdom Healing Qigong is a comprehensive approach that incorporates all the dimensions named above, is sourced from many lineages throughout history, is adaptable to any level of mobility, and includes principles and practices that span every stage of life, it is considered an inclusive and full expression form of qigong.
As a little background, qi (chi) is the creative power of life—a pure state of energy, both in form and formless, beyond our perception. Gong is cultivation, practice and benefits. It is the power and abilities we develop—the measurable realization of practice, and an energetic structure of wisdom that can be cultivated inside and around you. There are many pathways to awaken us to energy, in forms we can see and that which exists beyond our limited perceptions.
If you widen your scope of understanding, you could say there are many ways of "doing" qigong. It may surprise you to consider yoga, meditation and any spiritual practice as forms of qigong or the cultivation of energy.
A simplistic illustration would be, when we sleep the mind is totally relaxed and the body falls into a more relaxed state, so the energy body is naturally less contracted. Then, the exchange of energy between the body and the remainder of the world can happen more fluidly and can promote more than just rest—recharging your batteries, so to speak. In this way, we are engaging in a very basic form of qigong.
When you practice qigong principles—when you're awake and using the conscious mind to guide the body into a relaxed state without falling asleep—you amplify the quality of energy in your totally relaxed state. Then you can purposefully promote the well-balanced functions of the physical body—biologically, chemically and so forth. The health benefits that come out of your state of awake relaxation are amplified.
Wisdom Healing Qigong develops the capacity of your mind, body, heart and spirit to participate in the entire process of life— the cultivation of energy—which goes far beyond just physiological functioning to promote total well-being and quality of life.
To learn more about Wisdom Healing Qigong, Master Mingtong Gu, Chi Center online courses, and qigong retreats in New Mexico, visit ChiCenter.com.