Local Insights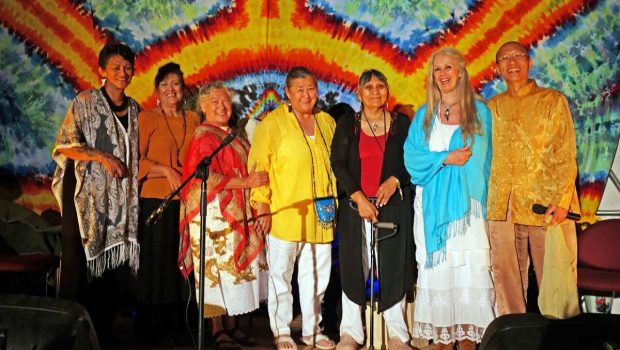 Published on June 27th, 2018 | by Jude Byrne
0
Gathering for Humanity
by Jude Byrne
The key catalyst and host for the Gathering for Humanity at the Chi Center in Galisteo was Grandmother Flordemayo, one of the original 13 Indigenous Grandmothers, an international group of spiritual elders, medicine women and teachers.
When asked what inspired the Gathering, Grandmother Flordemayo said she heard and listened to her guidance from the Holy Ones. The message she received was that it was important to "unite" and "gather humanity" at this critical time. She also stressed the importance of living and communicating from the heart space because that is where the truth is.
Jude Byrne recently got the chance to catch up with several other respected Grandmother Elders at the event.
Reverend Grandmother Eila Paul – Maori Tainue Elder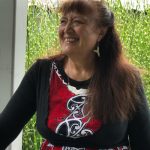 Grandmother Reverend Eila Paul is a healer with a spiritual and physical connection to her people, the Maori of Aotearoa New Zealand and to our world culture.
 JB: Can you share a little about sound healing?
Grandmother: Singing and music was a natural and important way in my life since I was born. One day…I realized healings come through our voices for those that can accept and receive it. For me, the doors and windows opened in a whole new way of how we could use the instrument that God has given us.
 JB: Any message for our readers?
Grandmother: My wish is for everyone to know the love of a grandmother or a grandfather or a teacher or somebody who recognizes their holy being within them. Inside us all is a spark of the Divine, and that is so precious. May all the people be blessed, and may they know they are carriers of their unique light of God, Father Mother God, whatever name we call the Being that loves us unconditionally.
Grandmother Pershile (Perci) – Hopi/Tewa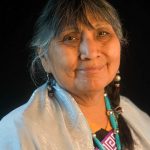 Grandmother Pershile (Perci) is a member of the Hopi/Tewa Tribe, from the Village of Walpi, Arizona. She is a Grandmother who is dedicated to healing hearts, minds and spirits. JB: How do we keep the vibrations high? Grandmother Pershile: Our moral compass has become pretty much diluted. We're forgetting how to treat each other with integrity and with compassion and love. People have turned to materialistic things, and they're forgetting to think about Creator which is so important to keep in balance. Being in nature, prayer, meditation and laughter are very grounding.
 JB: Can you share a prayer?
 Grandmother: ACCEPTANCE – Today I open my mind and heart to accept all that life has to offer. I understand that I may not always recognize the lesson or value of all my experiences and must learn to be patient and accept that,, in time I will know the true meaning of all that life has given me. I accept my greatest gift of "now" and pray that I will not waste it by worrying and complaining. Instead, I will use "now" to fill my life with happiness and success.
Grandmother Moetu Taiha – Maori Tuhoe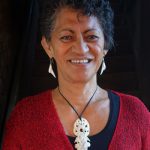 Elder Grandmother Moetu Taiha shares that MoetuTaiha is descended from Ngai Tuhoe and the Kahungunu tribes of Aoteara, New Zealand.
JB: What would you like to share about your healing work?
Grandmother: I tell people to get to know your shadows. If you're angry, acknowledge your emotions. Find out the real reason you are being triggered. Get to really know yourself. It takes bravery and courage to look at the shadow side, and that is how we find the light in ourselves. I'm a Transformer. I help to transform people. I open the gate and they must be willing to do the work. We are all here to find our God Self. We are all here to be the best we can be. It's more about being, not doing. Human Beings not human doings.
I pray for everyone.
Jude Byrne is an avid friend of Mother Earth, a writer, a healer, a teacher and a conduit. She can be reached at conduitcommunications.me.