Spotlight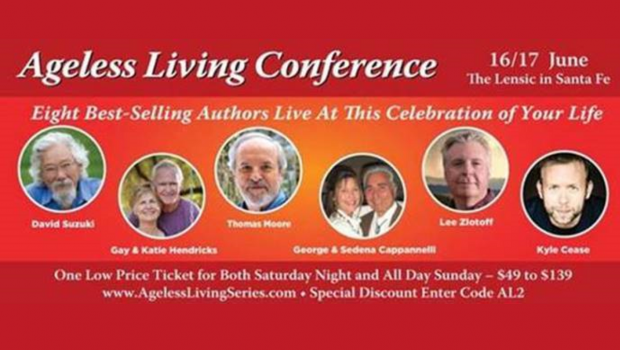 Published on May 30th, 2018 | by Natural Awakenings Publishing Corp.
0
AGELESS LIVING
Live Conference and PBS Series
AgeNation and Empower New Mexico invite the community into a journey of discovery and empowerment, music and community. Ageless Living: A Celebration of Life and Wisdom, is being held June 16 and 17 at the Lensic Performing Arts Center in Santa Fe.
"Experience this valuable celebration of life for yourself. Be inspired by the information, recommendations and valuable life strategies shared by the very gifted and talented authors who can support you in regaining your balance, renewing your hope and making plans for a future that is heathier, more meaningful, compassionate, joyful and committed to the greater good," say event producers and AgeNation cofounders, George and Sedena Cappannelli.
Attendees will be in the audience for the live taping. These inspiring authors and wisdom keepers will be live on stage: David Suzuki, Gay and Katie Hendricks, Thomas Moore, Lee Zlotoff, Kyle Cease, George and Sedena Cappannelli with an opening blessing by Grandmother Flordemayo, one of the 13 Indigenous Grandmothers.
Natural Awakenings readers will get an additional 20 percent discount off the price of admission. Just enter code AL2 at check out. Cost: Tickets start as low as $49 and up to just $139 for both days. For more information call 505-4706295. To purchase tickets and to find discounts on hotels and more, visit AgelessLivingSeries.com.