Spotlight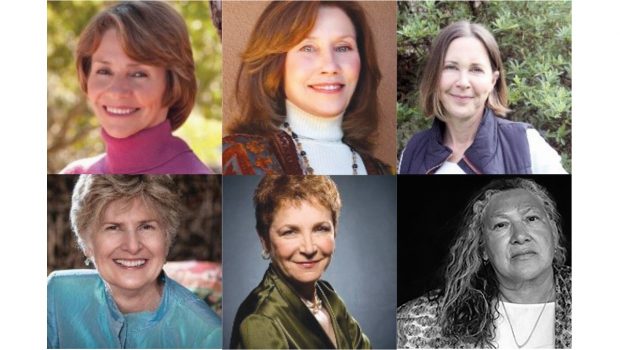 Published on April 29th, 2018 | by George Cappannelli
0
Just Some of The Remarkable Women of Ageless Living
There are numerous signs that the longdesired and much needed re-evolution of the role of women in contributing to the future well-being of the planet is gaining serious and sustained momentum.
We are proud to be able to contribute to this emergence by gathering a talented and gifted group of women authors and experts as part of the 2018 Ageless Living Series. This three-part live conference series, launched at the KiMo Theater in Albuquerque in March, is now debuting at the Lensic Performing Arts Center in Santa Fe on June 16 and 17 and September 7 and 8, will eventually result in a new, groundbreaking national PBS series of the same name.
Here is a brief look at some of these remarkable women and the wisdom they will share during Ageless Living in their effort to add greater momentum and positive direction to our collective ability to navigate with compassion and sanity in this pivotal time.
Kathlyn Hendricks, Ph.D., is an evolutionary catalyst who has been a pioneer in the field of body intelligence and conscious loving for over 40 years. Katie, as she likes to be called, has an international reputation as a woman who advances the core skills of conscious living: authenticity, response-ability and appreciation. She is the co-author of 12 books, including the bestselling Conscious Loving, At the Speed of Life. And in the words of her husband Gay, co-founder of the Henricks Institute and co-author of some of the couple's best-selling books, "Katie sees a person's true essence and invites it forth, even if it's been buried for years under layers of old programming, abuse and confusion. She's one of the most expansive metaphysical thinkers I've ever known."
Sedena Cappannelli is the co-founder of AgeNation and Empower New Mexico, co-producer of Ageless Living and co-author of five books including the award-winning, Do Not Go Quietly. Her work interweaves the power of the ancient practice of qigong with transformational wellness and enlivened aging concepts. She advances key practices and perspectives that help people of all ages attain and maintain greater health, balance, peace and longevity.
She is a living example of the value of practicing the tools and skills she advances. In collaboration with her husband George, she advances a deep commitment to creating a world in which people of all ages can move beyond limiting belief to thrive and contribute to the greater good.
Grandmother Flordemayo is a Curandera Espiritu, or a healer of divine spirit. As a seer, she is able to see other realms of color, light and sound. In addition, she can see the effects of existing imbalances on the physical, emotional and spiritual realms within a person's energy system. She was born in Nicaragua in the highlands of Central America and was the youngest of 15 children. In the Mayan astrology she has the seed sign.
Grandmother Flordemayo travels the globe to share her healings, prayers, and to foster a more spiritual understanding among humanity. She is a founding member of the Confederation of Indigenous Elders of the Americas, Institute of Natural and Traditional Knowledge, Church of the Spiritual Path, and the International Council of Thirteen Indigenous Grandmothers.
Carolyn Myss is the author of five New York Times bestselling books including Anatomy of The Spirit. She is also an internationally renowned speaker in the fields of human consciousness, spirituality and mysticism, health, energy medicine, and the science of medical intuition.
Myss developed the field of Energy Anatomy, a science that correlates specific emotional/psychological/physical/spiritual stress patterns with diseases. Her research proved so accurate that it became the subject matter of a book co-written by her and Dr. Norm Shealy: a Harvard trained neurosurgeon, titled The Creation of Health.
Lynne Twist has been a recognized global visionary committed to alleviating poverty, ending world hunger and supporting social justice and environmental sustainability for more than 40 years.
From working with Mother Teresa in Calcutta to the refugee camps in Ethiopia and the threatened rainforests of the Amazon, as well as guiding the philanthropy of some of the world's wealthiest families, Twist's on-the-ground work has brought her a deep understanding of people's relationship with money. Her breadth of knowledge and experience has led her to profound insights about the social tapestry of the world and the historical landscape of the times we are living in. These compelling stories and life experiences inspired her to write her best-selling, award-winning book The Soul of Money: Transforming Your Relationship with Money and Life which has been translated into nine languages.
Jeddah Mali had many unusual spiritual, extrasensory and paranormal experiences as a child that taught her how the intention of thought governs differing energy states, which in turn affect the behavior of matter.
These experiences came about unbidden, but even at the age of six, she had an innate understanding of their nature. In the same way that a bird 'knows' how to fly without ever having done it before, she 'knew' at an early age that she had an ability to understand and interact with the intangible. She also knew that most people were not aware of this potential within themselves. She has now introduced thousands of people and organizations in more than 60 countries to the fact that the 'intangible' is accessible for those who choose to look for it.
These are just some of the Remarkable Women of Ageless Living. Other speakers include Barbara Marx Hubbard, Dr. Joan Borysenko, Karen Newell and Ashton Applewhite.
For more information visit AgelessLivingSeries.com.