Spotlight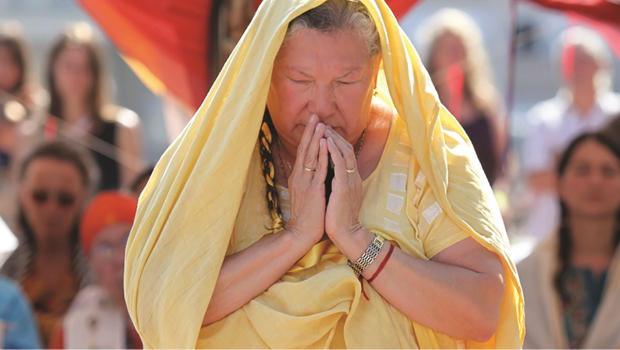 Published on April 29th, 2018 | by Natural Awakenings Publishing Corp.
0
Gathering for Humanity Retreat in Santa Fe
The Gathering for Humanity, Awaken Through the Seeds of Knowledge and Wisdom retreat conference is being held from May 16 through 20 at The Chi Center near Santa Fe. This powerful and timely five-day gathering for unity and awakening is taking place during a pivotal moment on Earth.
A mandate of Spirit through universal healer Mayan Grandmother Flordemayo, the Gathering is an urgent calling to all of humanity committed to increasing the light and coherence on the planet. "At this critical time on Earth, we as Elders recognize the inherent need for humanity to move in a different way—our habits, what we hold true, how we see our place in nature, with the universe and within our hearts—must shift," she says. "The Gathering for Humanity is not just a one-time event. It is a movement. We invite you to join us and thank you for moving with us with love, light, compassion and peace."
Grandmother Flordemayo was shown that each of us is holding a piece of the puzzle that will catapult us in the direction of personal and collective healing, wisdom and harmony. Gathering hosts include Grandmother Flordemayo and The Path, Master Mingtong Gu and The Chi Center, Matthew Reifslager and The Wholeness Crystal Earth Project, and Madi Sato and Timothy McLaughlin and Praising Earth.
"This Gathering will be a catalyst and a sanctuary for the emergence of the sacred into form," she explains. "Indigenous Elders, hosts, honored guests and musical guests will weave their gifts through the healing journey, activating energies of the land in a retreat environment to transform and realign body, mind and spirit."
In addition, attendees will learn more about the global initiative to reconnect humanity with our planet, each other and the cosmos through The Crystal Earth Project, which supports people from diverse spiritual traditions in planting Crystal Earth Seeds in sacred lands around the world. Planted 2 to 3 feet below the ground, Crystal Earth Seeds connect into our planet's existing crystalline grid, amplifying higher evolutionary energies to help humanity's healing and awakening.
Those unable to attend in person can get a front row seat to the 5-day Gathering for Humanity retreat with the Grandmothers and Wisdom Keepers from the comfort of their own home with a special discounted price of 25 percent off regular price of the livestream option.
For more information, visi tGatheringForHumanity.org