Food Briefs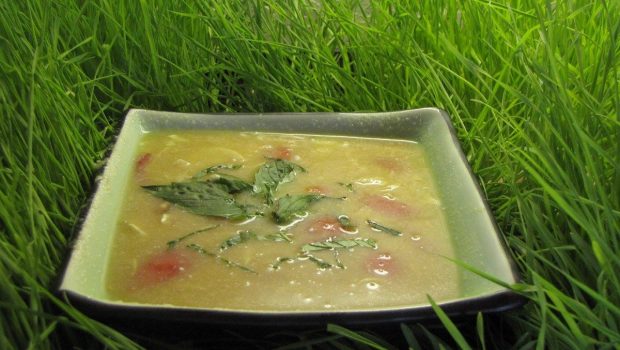 Published on February 28th, 2018 | by Karen Hammer
0
Spice Up Your Life
by Karen Hammer, owner of Vibrance, Vegetarian Restaurant
Throughout the ages, people have used herbs and spices to help heal themselves from a plethora of injuries and illnesses. These natural medicines are easily available right out of the spice cabinet and the uses are numerous to heal what ails us.
My number one choice for a spice that heals is turmeric. Turmeric is the yellow color in curry powder and amazing in its healing processes. Curcurmin—the active healing component in turmeric—is a top anticancer agent. With a few quick shakes, it's easy to add this medicinal food to your daily arsenal. Pair it with a few shakes of pepper for extra bioavailability.
When making curries, another healthful, plant-based ingredient to toss into the mix is garlic—and the fresher, the better.  Garlic's active compound, allicin, has many medicinal qualities. Not only does it help boost the immune system, but it has antiviral and antibacterial properties as well—and it's delicious.
Another amazing spice is cinnamon. It tastes delicious in coffee and tea drinks and pairs well with savory and sweet dishes alike. A spice adored by many cultures, cinnamon also has a vast array of health benefits. It's rich in antioxidants and can help improve blood sugar for those with diabetes. In addition, ¼ teaspoon a day can help keep cholesterol levels in check.
Cayenne is another delectable spice that is healthful in so many ways—both internally and externally. Because it is an antiinflammatory, it's added to many creams and ointments. It also has anti-cancer properties. Ginger root, one of the most versatile spices around, has been used for centuries to aid digestion. It is especially helpful for nausea. Sage can help with memory issues and to protect the brain. In studies, people consuming sage were more alert, calm and relaxed.
To help reduce cold and flu symptoms, a pinch of cinnamon, clove, ginger, and even cayenne, can be simmered on the stove along with a healthy sweetener to create an immune-boosting elixir.
The options are endless when it comes to using spices for a healthful boost. Turning to your spice cabinet instead of your medicine cabinet can help keep you healthy and living life to the fullest.
Karen Hammer is the owner of Vibrance, Vegetarian Restaurant, Art, Food and Music located at 4500 Silver Ave., SE, in Albuquerque. For more information, call 505-639-3401. See ad, page 28.