Local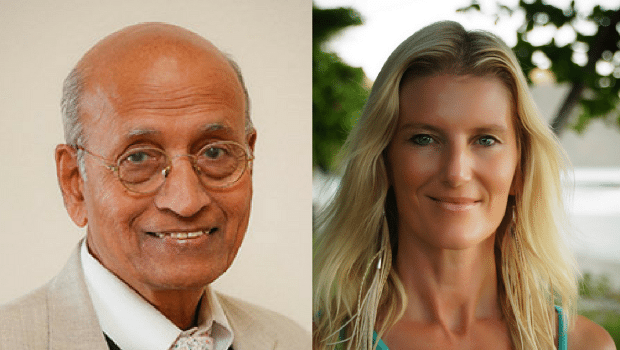 Published on January 31st, 2018 | by María E Garré
0
Ayurveda and Yoga
for Healing and Balance in a Stressful World
by María E Garré
The New Mexico School of Yoga is honored to host and bring together two luminaries in Ayurveda and yoga, Vasant Lad and Shiva Rea, for a weekend event being held March 16 to 18 at Tamaya Hyatt Regency, located in Santa Ana Pueblo, in Bernalillo. For the first-time, these renowned teachers will share their combined insight of Ayurveda and Yoga to Bring Healing and Balance in a Stressful World in this nourishing and awakening weekend that will help attendees balance the stress of life.
This special weekend immersion brings rejuvenation and restoration to the cellular and spiritual body. Through sacred movement, Prana Vinyasa Yoga, discourse, chanting and ritual, Vasant Lad and Shiva Rea will guide participants in the living practices of Ayurveda and yoga that support our vitality.
"Experience the power and grace of Ayurveda and yoga to heal the body, mind when anxiety and stress seem to overpower daily living," says important person at the yoga school. "This is the gift of the sages as transmitted through these two gifted, wise teachers.": Vasant Lad and Shiva Rea.
Each morning during the event, Rea will offer Prana Vinyasa Flow classes filled with wisdom to balance and restore. Attendees will experience juicy pranama (sacred) progression yoga sequences for balancing the body in inspiring ways. Various afternoons, through movement and conversation, she will share the wisdom of how to nourish ojas, (our vitality); as well as how to cultivate sacred strength and flexibility, for inner and outer empowerment."
The days will be rich in discussion and sharing from the deep ancient wisdom held within Lad's mind and heart. This soulful and divine teacher brings grounded and rooted knowledge of Ayurveda as a Veda. Participants will be delighted in the authentic delivery of meditation, breathing, chanting and spiritual practices that can help them flourish in our fast-moving world.
Set in a retreat setting, this weekend offers an intimate, self-healing space for all. The majestic Sandia Mountains offer a scenic and peaceful backdrop as well as the seclusion of the Rio Grande Cottonwood Forest to connect to the healing of the earth while listening to the words of these teachers. This is the perfect weekend retreat for yoga students, spiritual seekers, ayurveda lovers and teachers. Yoga teachers have the option to apply for advanced study credits through the New Mexico School of Yoga.
A native of Southern California, Shiva Rea is an author, global teacher, activist and educator. Calling upon her studies at UCLA's world arts and culture department, she is a leading innovator of Prana Flow Yoga, transformational vinyasa flow integrating tantric bhakti roots of yoga, Krishnamacharya's teachings and a universal, quantum approach to the body. She is known for bringing the roots of yoga alive for modern practitioners in creative, dynamic and life-transforming ways. Shiva Rea is the creator of Prana Vinyasa Flow Yoga, Yogadventure Retreats, Yoga Trance Dance for Life, Moving Activism for 1,008,000 Trees, Global Mala Project. Rea is also an active contributor to Yoga Journal, Mantra Magazine, Yoga Plus for Joyful Living, Sounds True and LA Yoga. She is the author of Tending the Sacred Fire in 2015.
A native of India, Vasant Lad served for three years as Medical Director of the Ayurveda Hospital in Pune, India. He was Professor of Clinical Medicine at the Pune University College of Ayurvedic Medicine for 15 years. He holds a Bachelor's of Ayurvedic Medicine and Surgery (BAM&S) degree from the University of Pune and a Master's of Ayurvedic Science (MASc) degree from Tilak Ayurved Mahavidyalaya. Lad has extensive training in both allopathy and surgery as well as traditional Ayurveda. In 1984, he founded the Ayurvedic Institute, a prestigious learning center for Ayurveda which is now located in Albuquerque.
The author of numerous books and hundreds of articles and other writings, Lad is respected throughout the world for his knowledge of Ayurveda. He travels nationally and internationally to teach about Ayurveda and train doctors, practitioners and students. He has written 11 books and textbooks on Ayurveda as well as hundreds of articles and other writings. With over 500,000 copies of his books in print in the U.S., his work has been translated into more than 20 languages.
Cost: $425 early bird by January 15; $525 regular rate. For more information, visit NMSchoolOfYoga.com. See ad page below.