Local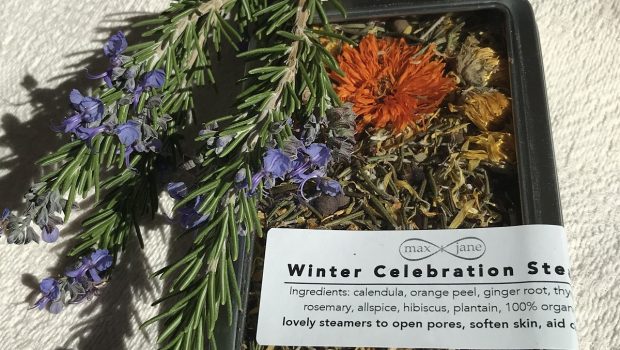 Published on January 1st, 2018 | by Natural Awakenings Publishing Corp.
0
Have Your Own Spa Experience At Home
Steam facials have been used for decades by esthetician as part of a classic facial. Natural Awaken­ings advertiser, maxandjane, be­lieves in the power of steam facials and knows that the right ingredients can make a world of difference. "With the use of beautiful flowers and the best herbs to provide sensational aromatherapy, steam facials help open pores, soften skin, cleanse and aid circulation," says maxandjane co-founder, Jane LastName, who recently reformulated her company's Winter Celebration Steamer. "Steamer tea is a wonderful, healthful beverage and a delight to add to a bath for additional calming and self-care benefits," says LastName.
How to Use Steamers:
Simmer up to one ounce of the herbs, in a small pot for three minutes. Re­move from the heat and place a towel over your head and the pot, to create a steam tent. "Be sure to keep your face at least eight inches from the water and steam for five to 15 minutes, once per week," says Last Name. "Strain the remaining tea, each time, and you can drink a small cup of it while adding the rest to a relaxing bath. For ultimate stress relief, a 30 minute bath is recommended." Last Name also suggests opening up a capsule of vitamin E or vitamin A, and rubbing the contents around the eyes and in wrinkles before steaming.
Winter Celebration Steamer is avail­able at La Montanita Co-op, Herbs Etc. of Santa Fe, Cid's of Taos, and Jemez Hot Springs. For more information, call 575-829-4556 or order online at MaxAndJane.com.