Local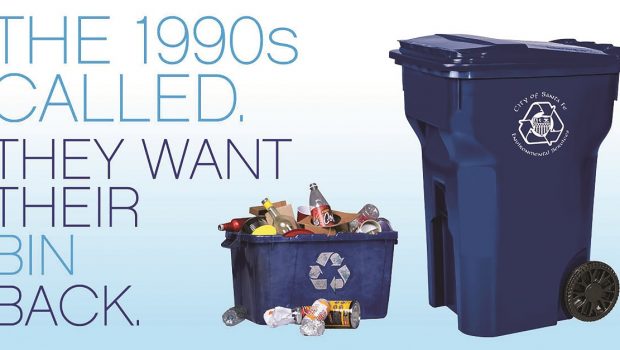 Published on January 1st, 2018 | by Natural Awakenings Publishing Corp.
0
Recycling in Santa Fe
The City of Santa Fe has recently updated the recycling program to include all plastics. Visit the City of Santa Fe Environmen-tal Services Division's website, SantaFenm. gov/trash_and_recycling for up-to-date information on what can be recycled in Santa Fe.
Where do I recycle?
1142 Siler Road (City Complex)
118 Murales Road (Fort Marcy Park-ing Area)
4009 Lucia Lane (Behind the McDon-ald's on Airport Road)
Buckman Road Recycling & Transfer Station (2600 Buckman Road) Open Monday-Sunday from 8:00 a.m.-4:45 p.m.
-City Curbside Recycling You can recycle all paper, plastic and metal that is approved on the above-mentioned website for City Curbside Recycling. Glass must be in a separate bin and plastic and metal containers can be placed with paper in your blue mixed recycling bin. If you have more material than can fit into your mixed re-cycling bin, please use another container to hold the paper and mark it "Recyclable" and place it next to your full blue bin. In commercial recycling, paper can be mixed with the non-glass recyclables (plastics and metals), and shredded paper should be tied off in a plastic bag.
-Santa Fe County Solid Waste and Recycling Division operates seven solid waste transfer stations around the County. All solid waste transfer stations, or convenient centers, accept tires and offer recycling and trash disposal. A few transfer stations accept large appliances, green waste, and motor oil for recycling, but check to see which ones accept it first.
For more information, contact the City of Santa Fe Environmental Services Division at 505- 992-3010 or visit SantaFenm.gov/trash_and_recycling.