Local Insights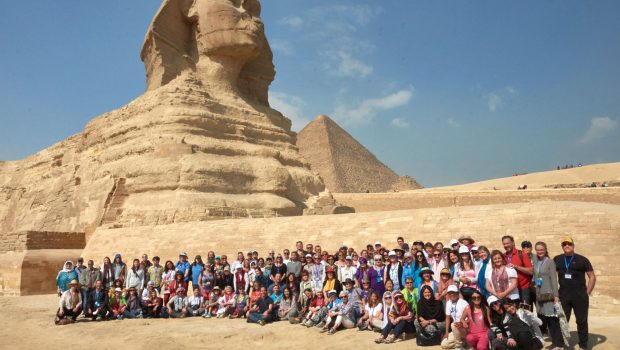 Published on October 2nd, 2017 | by Monika Muranyi
0
Sacred Journeys of Transformation
by Monika Muranyi
Since the beginning of spirituality sacred pilgrimages and journeys have been undertaken by thousands of humans in search of divinity and to deepen the connection with God. The success of the journey, pilgrimage or retreat is linked to a key ingredient—pure intent of the traveler. This intent, combined with the energies of certain sacred places, often creates powerful experiences that forever change and transform the individual. The facilitation of these experiences is what drives Elan Cohen, founder of Shaloha Productions.
Sacred Tours with Elan Cohen
Elan Cohen is incredibly dedicated and passionate about organizing sacred tours and conferences in the field of consciousness, science and spirituality. Fueled by his own spiritual awakening and journey, he now devotes his time to creating life-changing events that are specifically designed to open the heart and expand consciousness. His mission and goal are to help people discover and grow into their full potential.
As a metaphysical author, I've been privileged to participate in several conferences and sacred tours hosted and created by Elan. Through his selection of profound keynote speakers, I have personally witnessed spontaneous healings and transformative changes in many parts of the world. In addition, I've experienced my own profound moments. I am eternally grateful for the beautiful way that Spirit orchestrated his coming into my life.
My own spiritual awakening led me to the teachings of the loving entity, Kryon, channeled by Lee Carroll. Kryon's messages are about the new energy on the planet in response to humanity's shift in consciousness, which is creating new paradigms. Kryon is known and loved world-wide and tells us that peace on Earth is coming, and that we can play a large part in it. In the year 2000, it was Elan who organized the very first seminar with Kryon in Israel, attended by over a thousand of Israelis who received messages of hope and tools for self-help and empowerment. Since then, Shaloha Productions has created many life-changing events all around the world with authors and speakers such as Gregg Braden, Dr. Bruce Lipton, Dr. Joe Dispenza and Peggy Phoenix Dubro.
I am often asked, "What's it like to be on a Kryon Sacred Tour?" My answer in one word is—unforgettable! The reason is because I leave a different person. I have gained a new perspective on life. I have stepped out of my own culture and customs and experienced compassion in an entirely different way. Negative emotions such as fear and lack of self-worth have dropped away, and my consciousness has expanded. I also like to think my wisdom has increased. Getting out of my comfort zone, traveling to new places, and meeting our brothers and sisters that we share this planet with is the best form of education and self-help that I'm aware of.
While each person on a Shaloha Productions tour will have a different experience, somehow there is a magical bond that becomes woven throughout all who participate.
Discover Your Own Sacred Path
What does your intuition tell you about taking your own sacred journey or retreat? Sometimes you don't even have to travel to experience one. It could simply be an entire day you devote to quiet reflection within the sanctity of your own home. What kind of pilgrimage, tour or retreat would be sacred for you? Your answer to this question is personal and unique to you; however often we feel the "sacredness" of a person, place or experience when it aligns and resonates to our idea of spirituality.
How do you know which tour or retreat to take? Start by assessing the things that appeal most to you. Consider aspects such as your belief system and how you feel about spirituality. Is it part of an organization, or a community of like-minded people? If so, do they offer sacred tours, pilgrimages or retreats? Are you able to talk to others who have been on a tour or retreat that you are interested in?
What if you are not interested that much in spirituality, but are open to explore subjects that will enhance your life? There are many tours, workshops and retreats that are offered in the field of health and science. Perhaps one is close to where you live, or maybe you prefer to travel to exotic places with different cultures to gain a new perspective of the world? Spend some time thinking about your intention, and the types of experiences you would like to have. Then check out those who are giving these kinds of journeys because there is a vast difference between companies. Get references and look for testimonials. Are the tours based around your consciousness, or are they based around the destination?
Finally, you may wish to consider other options besides an organized tour or retreat. Even a weekend getaway at a health spa can rejuvenate your body, mind and spirit. Whatever your decision the best investment you can make is in yourself. When you take care of yourself first, the honor of your journey is passed to those around you in a synchronous way. The changes you make in your inner world will always affect your outer world. This is why Kryon says, "Peace on Earth begins with you!"
Monika Muranyi is the author of The Gaia Effect, The Human Akash and The Human Soul Revealed, (published by Ariane Editions, Canada). Her books provide wonderful summaries and explanations of the Kryon work, providing deeper understandings and new insights about the new energies emerging on the planet. For more information visit MonikaMuranyi.com. 
To connect with Elan Cohen with Shaloha Productions visit ShalohaProductions.com. For the full-length article, please visit NaturalAwakeningsNNM.com.