Health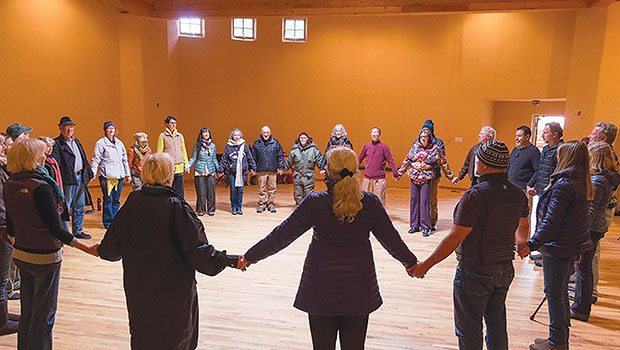 Published on August 30th, 2017 | by Publisher, Natural Awakenings New Mexico
0
Open your Mind and Heart for Deep Healing and Fulfillment with Wisdom Healing Qigong
"Did you realize that a lifetime of unreleased stress and trauma can contribute to chronic pain, disease, and a loss of vitality?" asks Master Mingtong Gu, founder of the Chi Center for Wisdom Healing Qigong in Galisteo, New Mexico. "Over the years we accumulate and store stress and trauma which causes energetic blockages in our organ systems. This creates imbalances detrimental to our long-term emotional and physical health…and are the root causes of most age-related illnesses."
Master Gu shares that Wisdom Healing Qigong practices are designed to remove energetic blockages stemming from negative emotions and situations that may have been building up since we were young children. "Imagine the levels of health and freedom when you finally release this lifetime of 'energetic residue.' You become more resilient and have increased capacity to harness your personal power and creativity…which is essential to the world during uncertain times like these," he says.
Once a person's energy systems are allowed to flow naturally, the additional benefits are profound, transforming day-to-day stress and tapping into higher levels of consciousness and wisdom. "When we're stressed, we're often only reacting to life because our response is not coming from a deeper, expansive place of ease," explains Gu.
However, the gentle movement, sound vibration, and meditation practices of qigong cultivate the expansiveness of one's heart, mind and spiritual energetic spaciousness… so they're able to have a much wider and more whole perspective of living.
"For example," shares Gu, "when you are stressed, constricted or contracted, you might think, 'Physically, I'm separate from everyone else. I'm isolated in my particular disease and condition. I'm limited by what has happened to me in my past.'"
As an alternative, with energetic spaciousness, one's mind and heart can open wide—even beyond the size of planet earth. "You can sense your energy linked to our collective experience and the universal potential. You can sense your connection to the whole cycle of life," says Gu. "The beauty of energy is that, on one hand, it's an ocean of totality and it is non-local. It's everywhere. It's undifferentiated, permeating all form and formless. And yet, with intention and practices like qigong, you can localize it anywhere—including in your body—to release stress and trauma, accelerate healing, and promote joy and peace."
A Wisdom Healing Qigong practice can activate every cell in every part of one's body to awaken to greater intelligence, energy and love. "No matter what your life stage or challenges, it's a potent resource for your personal source for health and happiness," adds Gu.
To learn how to transform your life challenges through Wisdom Healing Qigong, join Master Mington Gu for a September/October Healing Intensive Retreat at the Chi Center, located at 40 Camino Vista Clara in Galisteo, NM. To register or for more information, call 800-959-2892 or visit ChiCenter.com/Retreat.