Business Profile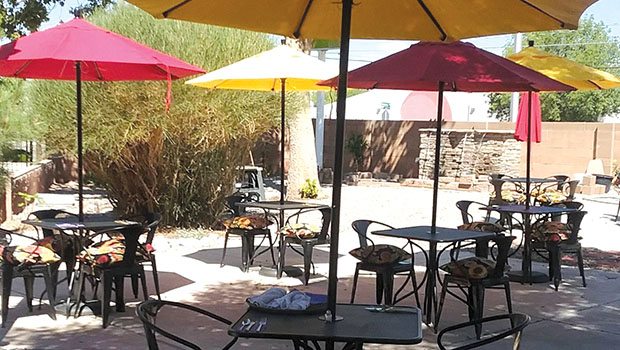 Published on June 29th, 2017 | by Publisher, Natural Awakenings New Mexico
0
Vibrance Vegan Restaurant Celebrates One Year
Vibrance Vegan restaurant in Albuquerque is celebrating their one year anniversary this month. "We've been receiving so many rave reviews—from vegans and non-vegans alike. It means a lot when people share accolades about their dining experience," shares restaurant owner, Karen Hammer.
In 2010, Hammer enrolled in California's Living Light Culinary Arts School and soon after, began teaching raw vegan cooking classes. When she realized that the restaurant scene lacked healthy raw food choices, she decided to open up her own restaurant.
Vibrance offers a gallery space featuring local artists, music and healthy foods in a casually elegant setting. "Check out our outdoor patio which features a water fountain, a fire pit, and amazing views of theSandia's," says Hammer.
Vibrance's plant-based menu features a variety of options including vegetable wraps, house-made gluten-free pizza, raw vegan pizza, kale chips, hummus and much more. Desserts include chocolate turtle cheesecake and lemon bars.  Beverage menu items include freshly made limeade, hibiscus tea infusion, herbal and black teas, French press coffee, and house-made kombucha.
Open daily from 10 a.m. to 7 p.m. including a $20 Sunday brunch buffet from 11 a.m. to 3 p.m. Location: 4500 Silver Ave. S.E. in Albuquerque. For more information, call 505-639-3401 or visit Facebook.com/abqeatfresh.