Spotlight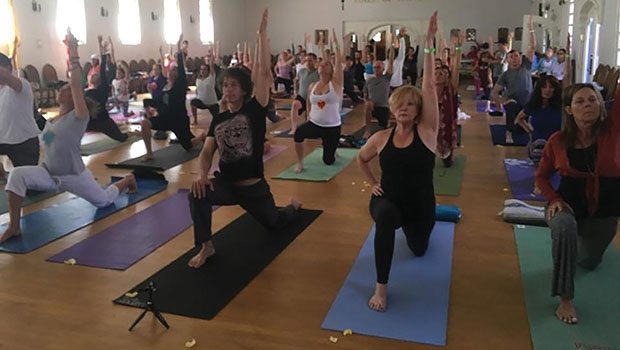 Published on June 29th, 2017 | by Publisher, Natural Awakenings New Mexico
0
Fourth Annual Santa Fe Yoga Festival 
The Santa Fe Yoga Festival was founded in early 2014 by Kurt Young, a local businessman and founder of the Santa Fe Film Festival, along with Pamela Serna, a Santa Fe yoga devotee. This year's managing executive directors for the festival are Keisha Wixom and Shibana Singh. The fourth annual Santa Fe Yoga Festival schedule and event calendar will be announced shortly. The event features a multi-day celebration of daily meditations, yoga classes with nationally renowned instructors, hikes, farm-to-table dinners, DJ hosted pool parties, and live music.
"The opportunity to bring our yoga community together with world renowned instructors, speakers and musicians in this breathtaking location is truly exciting," says Young. "We know that as a destination, Santa Fe is already a hot spot, and it is the perfect atmosphere for people searching for a chance to reflect, focus on fitness of the mind and body, and soul while connecting with others."
New to this year's festival is Dharma Talk, which showcases select members of the community sharing their insights and yogic wisdom.
According to Young, each year attendance has risen dramatically. "In the first year the festival had about 750 tickets sold. In the second year the total attendance was approximately 3,000. Last year the tally was around 4,500. This year is no different, record crowds are expected," he says.
"We are blessed beyond belief and deeply grateful," says Young. "We really focus on the whole body connection while striving to create a space where the attendee is immersed in an atmosphere where positive changes may find their way to that individual. Within that space, they are able to make lasting, positive transformations."
In addition to yoga and talks about wellness, there is always an Ayurvedic coach on hand to help people with diet choices in addition to several Ayurvedic cooking classes.
For musical entertainment, over the last few years the group has coordinated with AMP concerts and brought in such acts Michael Franti, Grace Potter, Chris Chickering, Mental Physix and the Joey Lugassy Band as well as others. This year there will be at least a dozen acts.
In addition to music, movies are another common theme of the event. The first year the movie Awakening was shown to a sold-out crowd. The second year Dying to Know was also shown to a sold-out crowd. This year the festival will offer a showing of The Last Dalai Lama.
Food is always ever-present as well. Last year's Wine and Chocolate Yoga was a huge hit and will be continued this year as will the annual opening farm-to-table opening night dinner.
The festival went through a rough opening year, but survived the first-year startup and has since become a fixture in the summer line up in Santa Fe. Dozens of businesses annually earmark funds to support the event, which in turn donates money back to the community.
"One really fun thing last year was that we had so many attendees from different types of backgrounds that came out to join us on the mat," recalls Young. "We had people from young kids to football players, all the way to the very elderly members of the community who came out to enjoy the offerings. We feel like we are really getting out to the community at large now, and we hope we are making a positive link in connecting wellness with fun."
Cost: Early bird passes are on sale until July 31 for $199; Adventure Passes and Fiesta 1 Day Passes will be on sale for $99. After that, ticket prices rise to $299 and $199. Tickets are also available for individual speakers and events. For more information visit SantaFeYogaFestival.org.