Spotlight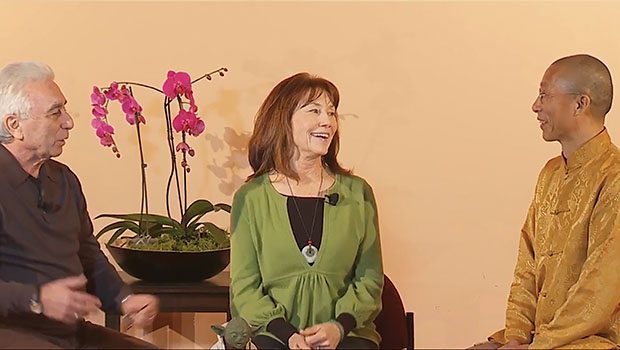 Published on May 30th, 2017 | by Sedena C. Cappannelli
0
A Sure Path to Wellness, Vitality & Resilience—at Any Age!
 "If we focus on prevention, we won't have to work so hard down the road fixing our bodies from disrepair and disease…the way to avoid this is to raise our level of wellness."
by Sedena Cappannelli
Sometimes great things get slipped under our noses, in the disguise of a challenge.  Over 25 years ago while living in Los Angeles this happened to AgeNation Co-Founder, Sedena C. Cappannelli.  "I hit a bottom in all areas of my life—physically, emotionally and mentally.  I prayed for a way out of my pain and knew that to find it I had to surrender and do whatever I could to regain my health and balance," she explains.  That's when she was led to qigong and began what was to become a diligent practice of this Eastern energy system.  "In fact, in a matter of a few months my health had begun to turn around and I was experiencing a sense of wholeness and energy that was as surprising as it was remarkable."
In the years since, she has discovered that qigong is a true remedy for chronic discomfort, pain and the trauma of life, her own and many others.  "Unlike symptom management, this energy practice helps us to release the underlying blockages, tension, and cause of disease," says Cappannelli. "Qigong practice also helps us to open our energy flow so that a deeper level of health, joy and well-being can come back to us."
As a result, it also now forms the basis for her Enlivened Ageing programs that combine qigong, contemporary and integrative energy, longevity and life strategies, and personal development skills.  "As co-founder of AgeNation, this essential wellness component is also part of our work of informing, inspiring and providing solutions for 'people who weren't born yesterday.'  I'm also thrilled to have qigong reinforced and deepened in my practice and my life just this last year with the incredible support of Master Mingtong Gu, a new Santa Fe resident and an internationally recognized qigong master," says Cappannelli.
"For this reason, my husband, George, and I are excited about our new collaboration with Master Mingtong on Qigong and Conscious Aging.  It's a new series of webinars and live events that we believe will serve as an empowering catalyst and movement for people in the second half of life to age wisely and well and to thrive," explains Cappannelli.  "It's another important step in our commitment to provide our AgeNation audiences with the best possible tools and solutions.  We also both know first-hand that Master Mingtong's powerful ancient wisdom teachings of Qigong can truly improve health and happiness for us all."
The launch of Qigong and Conscious Aging has begun with a free series of three webinars featuring Mingtong, George and Sedena Cappanelli: Reclaiming our Vitality, Resilience and Personal Power; Practices for Reconnecting to Your Joy, Passion and Purpose to Create a Legacy You Love; and July's webinar will focus on Conscious Aging and Conscious Dying.
To register for these free webinars and receive a Natural Awakenings discount visit ChiChenter.com/QCAConf2017.
Qigong & Conscious Aging Conference
The first annual Qigong and Conscious Aging Conference is being held August 4 – 6, 2017 at the new Wisdom Healing Qigong Center in Galisteo. The conference will integrate the work of world-class wisdom keepers, authors, and experts and a vibrant practice of qigong. Together these leading-edge insights, skills, and practices for navigating the second half of life will also support those in younger generations who want to be proactive about their health and learn about the world they are inheriting.
The list of presenters so far includes Dr. Judith Orloff, Father Richard Rohr, Joan Borysenko, Andrew Harvey, Dr. Gregory Shushan, Master Mingtong Gu, George Cappannelli, Sedena Cappannelli, Nathan Crane and others. There will be live panels, inspiring films and videos, uplifting music, wonderful food, and outstanding accommodations for those who want to stay at the Chi Center, and more.
"The conference is an innovative and enlivening opportunity for you to discover transformational aging techniques that will bring greater vitality, resilience, and well-being into your life," says conference facilitator, Sedena C. Cappannelli, co-founder of AgeNation. "It will be a special time for you to receive actionable steps for living a healthy and vibrant life; to manifest more of the dream you were born to live, and to connect with deeper joy, self-acceptance and love, creativity, purpose, and meaning."
To register and receive a Natural Awakenings discount for the Conference coming up in August, visit www.ChiChenter.com/QCAConf2017.