Spotlight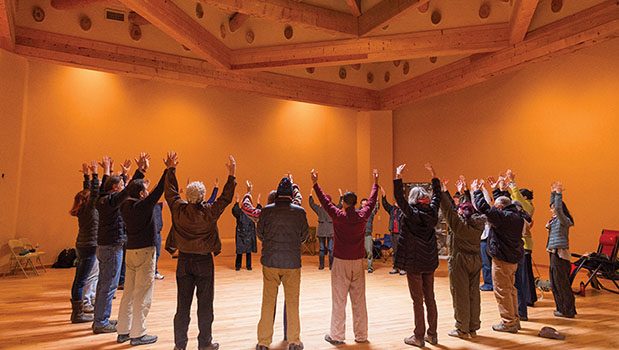 Published on May 30th, 2017 | by Publisher, Natural Awakenings New Mexico
0
Healing Intensive Qigong Retreat with Master Mingtong Gu
A Wisdom Healing Intensive Qigong Retreat led by Master Mingtong Gu is being held June 30 to July 27 at The Center for Wisdom Healing Qigong in Galisteo. Attendees can participate in a 7, 14 or 28 day retreat.
The Healing Intensive Retreat is a focused training for anyone facing acute or chronic illness, stress, aging or recovering from injury.  Others who will benefit from the retreat include those dealing with depletion, anxiety or depression and wishing to strengthen their endocrine and immune systems; new or continuing students seeking powerful tools for self-healing; wellness professionals wishing to offer more comprehensive health benefits in their practice; and qigong teachers seeking certification.
Based on the proven effectiveness of Wisdom (Healing) Zhineng Center Retreats in China, this healing intensive allows attendees to directly access their inner medicine of mind, body and heart through the ancient wisdom of energy practice.
Participants are guided directly by Master Gu, a world-renowned teacher and healer, and his team. All ages and abilities are welcome and will enjoy the personalized support.
During the retreat, attendees will learn the movements, sounds, meditations and visualizations of Wisdom Healing Qigong while engaging in a daily intensive practice that will release blockages and open them to deeper levels of physical, emotional and energetic healing. "You will develop and embody essential practices in retreat so you can continue the practice at home," explains Master Gu.
The Center for Wisdom Healing Qigong is located in the majestic high desert south of Santa Fe in Galisteo, New Mexico. This beautiful 79-acre resort is a perfect archetype of The Land of Enchantment with peaceful landscapes, dazzling sunsets, and starry nights. The grounds include two labyrinths, outdoor fireplaces, fountains, a pond and waterfall, and paths for reflection and hiking. Workshops are held in the beautiful circular Kiva set into the earth that replicates traditional ceremonial sites. "As soon as you arrive, you can feel the same healing energy of the land that the native people of this area have been feeling for thousands of years," says Master Gu!
Participants can stay in guest quarters at the retreat center or can be very comfortable commuting daily for the duration of their retreat experience.
For more information, visit www.ChiCenter.com/July 2017Retreat. Call 1-800-959-2892. Email Admin@ChiCenter.com