Business Profile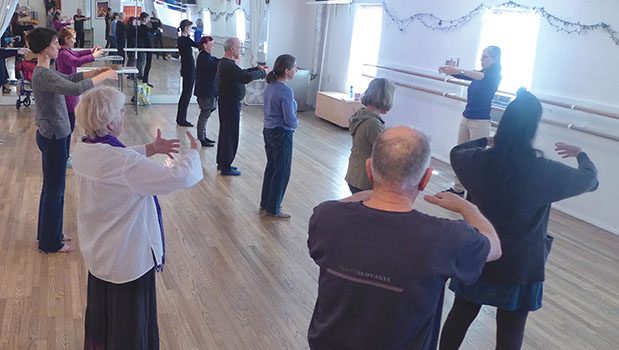 Published on March 3rd, 2017 | by Publisher, Natural Awakenings New Mexico
0
Wisdom Healing Qigong
"Master Mingtong Gu often says 'There is no disease; only stuck energy.' These are the words that resonated to the core of my being after I suffered a life-threating illness in my late forties that left me functionally disabled.  Modern medicine's response to my situation—that there was nothing left they could do for me—provided me with the impetus to attend a three day Wisdom Healing Qigong workshop in Santa Fe in 2014," says Jeraldine Peterson-Mark, co-founder of Santa Fe Qigong.
Peterson-Mark began her path of recovery by immediately attending a week-long Healing Intensive Retreat with Master Mingtong Gu, founder of the Chi Center, where she learned more about this powerful, and unique system of integrative self-healing.  "When I practiced alongside 70 other students from 7am until 9pm daily, I began to experience the free flow of intelligent life force energy that supports self-healing and unconditional nourishment, when it is no longer stuck in past injuries, illnesses and mental or emotional traumas," she says.
Qi (Chi) means "life energy" and gong means "cultivation and its benefits."
Upon her return home, she was able to cultivate and deepen her practice by taking advantage of the Chi Center's livestream practices, online classes, detailed printed materials, CD's, DVDs, and Skype and Zoom group sharings.  "Wanting to share this beautiful healing modality with others, I helped create Santa Fe Qigong, a bi-monthly community practice that meets twice a month at The Studio off Canyon Road," she explains.
Santa Fe Qigong
Jeraldine Peterson-Mark
SantaFeQiGong.com • ChiCenter.com
See directory listing, page 35.