Local Insights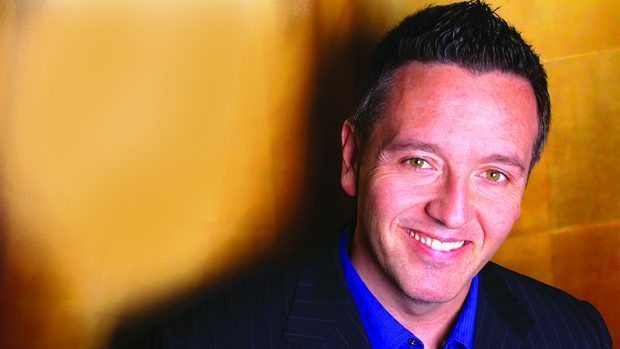 Published on May 30th, 2016 | by Linda Sechrist
0
A Chat with Psychic Medium JOHN EDWARD
by Linda Sechrist
As a well-known psychic medium, lecturer and author of eight books, John Edward relies on more than his five senses for gathering information. His highly developed extra-sensory perception (ESP)—a term coined by Duke University researcher J.B. Rhine—affords Edward the ability to acquire information by paranormal means, independent of any known physical sense or deduction from previous experience. Edward's personal mission as a medium enables him to help individuals become more comfortable with the idea of death. Additionally, his personal readings bring individuals hope by reuniting them with those they love that have crossed over. On his internationally syndicated television shows, Crossing Over with John Edward and John Edward Cross County, Edward's deeply compelling and occasionally humorous approach has earned him a loyal following.
A professional medium requires a well-developed psychic capacity and essential, less obvious aptitudes that many of us would find nearly impossible. These range from unquestionable trust in an invisible world and the capability to suspend judgment to the need for control, healthy self-esteem and solid grounding, as well as a lack of fear about death and a deep sense of compassion. Just as important are the willingness to be open to multiple possibilities without choosing one, acceptance of and comfort with the unknown, and an ability to see the bigger picture.
Natural Awakenings caught up with Edward to glean some insight into the man and his latest endeavors.
What motivated you to master the aptitudes of a professional medium?
I have a deeply rooted sense of empathy and compassion that can only be satiated by helping others who are in the grips of deep emotional pain due to the loss of a loved one.
Do you use any of these aptitudes in your personal life?
No. I have a very normal life of eating, sleeping, writing, playing with my kids and dogs and hanging out with my wife. In fact, like millions of individuals, I've wrestled with bad eating habits and weight gain. In my childhood, food was a big part of our Italian household. I was a nicky eater, so my mom, grandma and aunts fattened me up with the foods that I loved: white bread, Drake's Devil Dogs, Hostess Cupcakes and Pepsi in my milk. It was the only way I would drink it. Unfortunately, I drank a lot of diet soda over the years and damaged my hypothalamus, which I am now in the process of healing with supplements.
My weight yo-yoed until I was 40. The weight-loss tricks quit working, my metabolism slowed down and my weight crept up faster than ever before.
My friends and family dared me to do Weight Watchers. I accepted the challenge to show them that it wouldn't work. The 25 pounds I dropped made me realize that the program works because it made me aware and accountable for my choices. When I lecture now and people tell me that I got skinny, I respond: "No, I got smart, accountable and aware of what I put into my body."
Few individuals realize that if they don't drop the fork and join the gym, their fat, like energetic clutter, takes up space in their energy eld. I am more aware of my physical and energetic health now than ever before, and I take better care of myself. I make better and more informed choices. For example, I had my mercury fillings removed and replaced.
Have your lifestyle changes affected your ability to do readings?
Today, when I travel, instead of raiding the hotel mini-bar before I do readings, I have a Weight Watcher brownie and a Zevia cola instead of my old faithful—a Hershey bar and a diet soda— which once provided my secret energy boost before taping a show. Although my lifestyle changes aren't reflected in my ability to do readings, they have made a noticeable difference in my physical body. It's the instrument that has to stay in tune for the energy to come through it.
What is your latest Evolve program about?
It's a one-year membership that allows me to interact globally with members. Among the many benefits to the Evolve community is our exclusive web series, "Evolve with John Edward", where a new episode debuts every Sunday filled with Evolve member readings, special guest interviews and metaphysical and lifestyle content from myself and our Evolve contributors. Overall, I would say our Evolve members appreciate the supportive community that they are part of.
Visit JohnEdward.net for more information.