Publisher's Letter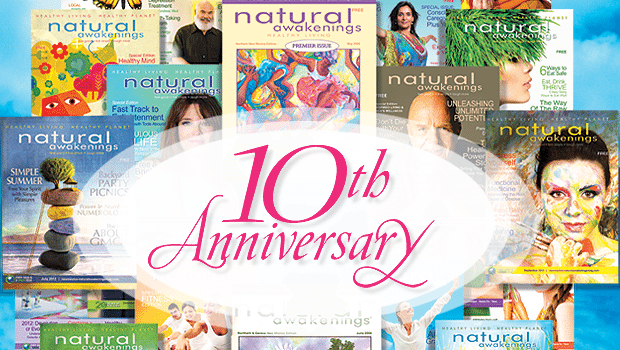 Published on June 30th, 2015 | by Publisher, Natural Awakenings New Mexico
0
Celebrating 10 Years of Publishing
Natural Awakenings Northern New Mexico celebrates 10 years of publishing this month. What an amazing milestone! And it all began because a friendly and ambitious guy from Waco, Texas, former publisher Jeff Browne, saw a need for a publication of this style in Santa Fe and relocated to ensure that it happened.
Fast forward to now and the many positive changes that our local Natural Awakenings magazine has gone through. When I took the helm as publisher 2.5 years ago, my mission was to make our publication as strong as possible for our readers. I also wanted to make it a place where our advertising customers knew they were valued. And in turn, you've placed your faith in us as a leading, local media outlet to help you market and grow your business. Below are just a few of the changes we've implemented:
Increased our monthly print run to 15,000 copies an issue (reaching an estimated 37,500 readers).
Changed our website to a responsive platform.
Doubled the number of distribution sites.
Offering multi-platform marketing.
Reaching over 2,000 monthly e-newsletter readers through a mobile-friendly platform, again ensuring more readers engage with our editorial content.
Launched the Android version of our popular iPhone mobile app, with a total of 36,000 downloads thus far. Our repeat advertisers receive a free listing here!
Increased our local editorial coverage in every issue.
The purpose of this magazine is to inform, educate and inspire and we are grateful to our ever-expanding community. It is only through the generosity of advertisers and distributors that a free community resource like this can exist and flourish. Over the years, we've had the opportunity to work with so many talented and passionate members of our community. We look forward to our continued work together in addition to forming new relationships in the months and years to come. Together, we can empower others in our local and global community to evaluate their options and take steps to make their lives happier and healthier.
Finally, a heartfelt thank you to our team–without whose stellar work none of this would be possible. Co-creating with them each month is pure joy! All of us are thrilled to do this important work as we know how much it means to you, our readers. This month's issue goes above and beyond and we are proud to share it with you.
Andrea
Andrea Schensky – Williams, Publisher