Spotlight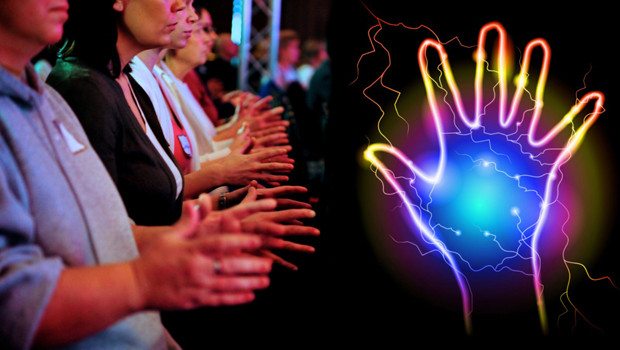 Published on April 30th, 2015 | by Publisher, Natural Awakenings New Mexico
0
Qigong Healing and Universal Oneness: An Interview with Jeff Primack, Founder of the Qi Revolution Conference
Interviewer Kathy Rivera Wallace, TV talk show host who regularly interviews leading wellness experts, recently caught up with qigong teacher Jeff Primack. Primack, who has studied with qi masters from all over the world and has taught more than 50,000 people at live Qi Revolution conferences across the U.S., will be coming to Santa Fe June 13-16 for the largest qigong event in the Southwest.

KRW: I attended the Qi Revolution conference before and was blown away seeing so many different types of people practicing together. What makes learning qigong in big groups more powerful and what do you think has allowed you to reach such a large audience?
JP: Where two are more are gathered a unified qi field exists. Qigong breaks through people's doubt with a tangible magnetic force. When a few thousand people practice qigong in a convention center ballroom…the group energy from all the focused people make the qi far stronger than what we can achieve alone. The most spiritually profound practices are breathing exercises that deliver a type of euphoric high from the oxygen and energy absorption. Part of our success in sharing qigong comes from the use of video-animation and specialized music allowing people to feel and connect to qi powerfully, which is the most important factor.
KRW: I found the qi so life-changing. Can you outline the overall essence of qigong for newcomers?
JP: The first goal of qigong is to absorb external qi in the air we breathe and live inside of. Breathing techniques and graceful movements harness and absorb this energy directly. Your personal energy is internal qi and this builds up quickly with practice and eventually "Overflows the Dan Tien."
KRW: You're currently teaching a food-healing class with Claudia Gabrielle, MD. How does the medical community respond to your teachings on using food to reverse specific diseases?
JP: To be honest, when I first began teaching Food-Healing in 2005 there was less interest from physicians than now. Due to more scientific studies now backing the food-protocols I've shared the last 10 years, I have a lot more attention from doctors and have certified many in our Conquering Any Disease Food Healing system. Dr. Claudia is a practicing Ivy-League physician who is currently suggesting components of our food healing protocols to interested patients. As a family practice doctor having seen over 70,000 patients, Dr. Claudia brings wisdom and feels it is time to change people's health at the food level.
KRW: When I attended the Qi Revolution my favorite posture was the "Qi Ball". I felt like I was carrying a magnetic orb of energy. What significance does this posture have?
JP: Our hands are like mirrors reflecting light back and forth. The Qi Ball posture is 10 times stronger if palms are aligned correctly, i.e. not having one palm more forward. Learning to align your hands/body allows you to build a higher magnetic charge, which most people get excited about. Kids are especially drawn to the Qi Ball and a few schoolteachers that I've trained share it in their classrooms. Aside from feeling cool, the qigong postures are shown to improve energy and resolve health issues.
KRW: How can everyday people use qigong to reach their full potential?
JP: More than simply collecting qi, the gong is a change in our discipline and character. Awakening to God/nature's presence in our daily lives is greatly supported by realizing we are energy. Qi profoundly increases mind focus, because it changes us on the deepest level possible, the vibrational level. This ever-present force of qi belongs to no religion, yet is spiritual and available to all people willing to learn skillful breathing. Reaching our highest potential or enlightenment begins with being in charge of our own vibration and emotional state.
KRW: How does food affect a person's qi vibration, according to your teachings?
JP: Eating raw fruits and veggies give us enzymes with lots of qi, however it is a source of dampness in Chinese medicine. Qigong views digestion like a cauldron of water boiling over a fire. If you put too much water/raw foods in the pot all at once it will take longer to boil. By not eating unto fullness and cooking we access more energy and qigong focuses on improving this "digestive fire". Eating a high-phytochemical diet that is rich in deep colored foods, electron-abundant antioxidants and cooking with saturated fats is suggested.
KRW: Why should people interrupt their busy lives to attend the Qi Revolution at the Santa Fe Convention Center June 13-16?
JP: It is rare when so many beautiful souls gather and practice qigong under one roof. We are stronger in one massive field and group energy being exponentially more powerful. We keep our conference price low because people, now more than ever, require this knowledge to prosper. This year we are celebrating our 10th year anniversary teaching Qi Revolution and people can justify dropping what they're doing simply to be in the amazing energy present in the ambient ballroom. Learning to eat and do qigong for maximum wellness is a benefit you will enjoy for a long life.
Cost: $149 for four days. Location: Santa Fe Convention Center, 201 W Marcy St., Santa Fe. To reserve tickets and for more information, call 1-800-298-8970 or visit Qigong.com.