Conscious Eating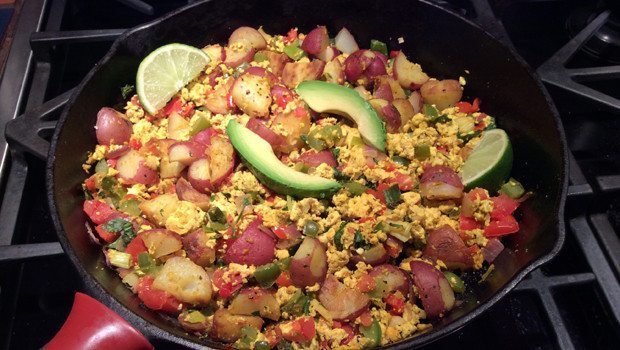 Published on February 28th, 2015 | by Publisher, Natural Awakenings New Mexico
0
Recipes
Smoked Trout Hash with Poached Eggs and Tomatillo Salsa
courtesy of Café Pasqual's
Serves 4
Ingredients:


8 large organic eggs for poaching
1 pound smoked trout, torn into 2 x1 inch pieces
a handful of finely chopped cilantro, parsley or chives for garnish
Tomatillo salsa ingredients:
12 large tomatillos, husked and rinsed
2 jalapeño chiles, stemmed and cut in half
½ small white onion, peeled and coarsely chopped
1 clove garlic, peeled
24 sprigs cilantro with stems and roots cut off
2 cups spinach leaves
1 chile de arbol, stemmed and seeded
1 ½ tsp kosher salt
Hash brown potato cakes ingredients:
2 pounds russet potatoes, peeled
5 ounces Gruyère cheese, grated
1/3 cup fresh chives, finely minced
2 tsp kosher salt
1 ½ tsp freshly ground black pepper
5 Tbsp unsalted butter
Directions:
To make salsa, put all ingredients into a blender container and pulse until liquefied.   Adjust seasoning as needed.  Transfer to a bowl.
Fill a very large pot with enough water to cover the potatoes.  Bring water to a boil, then carefully add the potatoes.  Cook for 20 minutes over bubbling water. They are done when a fork just slightly slips in the potato. Do not overcook as the potatoes will crumble and will not make good long hash shapes!   Drain the potatoes and let cool completely—this may take as long as 3 or 4 hours.  Or cook a day ahead and refrigerate.
Grate the potatoes on a box grater and put in a large bowl and add the chives, cheese and seasonings.  Add the ingredients and gently toss together with your hands.
Preheat the oven to 200 degrees.  Preheat a 7- inch non-stick sauté pan and add a quarter of the butter, tipping the pan to cover the surface.  Add a quarter of the potato mixture and pat down to form a pancake.  Cook for 4-5 minutes until golden and flip the pancake over and cook another 3-4 minutes.  Slip the pancake onto an oven-proof plate and place in the oven to keep warm. Repeat until all 4 pancakes are made.  Place a sheet of parchment paper between each cake if you are going to stack them in the warming oven.
Poach the eggs in enough water to cover.  Cook until they are opaque but still runny inside.
While the eggs cook, quickly and gently heat the trout in the non-stick skillet over medium heat just to heat through.
Place the poached eggs on the warm plated potato pancakes.  Gently dab the top of the eggs to remove the cooking water so that the salsa will not slide off when spooned over the top of the eggs.  Surround with the torn warmed trout and put a generous tablespoonful of salsa across the eggs.  Garnish. Serve with more tomatillo salsa on the side.
---
Burmese Salad with Dressing
Courtesy of Mu Du Noodles
Dressing Ingredients:
Blanched basil leaves 1 C
Walnuts ½ c
Minced garlic 2T
Minced ginger 1T
Orange Juice ½ C
Rice Vinegar 4T
Roasted sesame oil 2T
Unflavored oil 1 C
Minced Shallots 2T
Salt and Pepper to taste
Assembly:
Blend the first set of ingredients together.
Slowly pour in the oil as blender is running.
Add the shallots and salt and pepper to taste.
Smooth the top over and top with oil to prevent sauce from discoloring
Salad Ingredients:
Sliced Romaine hearts 3 – 4 heads
Natural Pickled Ginger (sliced) ½ C
Asian Pears (skinned and sliced) 1 -2
Gala Apples (thinly sliced) 1 -2
Nuts (walnuts, pecans, cashews) ½ c each
Seeds (pumpkin, sunflower) ½ c each
Chopped Peanuts 1 C
Fried Shallots 1 C
Assembly:
The nuts can be roasted or kept raw.
Can be served with dressing mixed with all the salad ingredients or
Everything can be kept separate with the dressing served on the side.
Top the salad with chopped peanuts and fried shallots.
---
Southwestern Tofu Scramble with Greens
submitted by Adrienne Weiss for La Montanita Co-op
Serves: 2-4
Breakfast (or dinner) in a one pot dish: crispy potatoes, moist tofu, Southwestern spices and the fresh taste of tomatoes and avocados—all served over healthy, bright greens. This dairy-free version is packed with essential protein and calcium rich veggies. It is easy to prepare and is a real winner.
Ingredients:
1 Tbsp olive oil
6 small red potatoes, quartered
4 scallions, chopped
1/4 red onion, minced
1 red bell pepper, chopped
1 green bell pepper, chopped
1 block extra-firm tofu, drained well
1 Tbsp nutritional yeast
1/2 tsp oregano
1/2 tsp ground coriander
1/2 tsp ground cumin
1/2 tsp black salt (available at East Indian markets or online) to give the dish its eggy taste
1/2 tsp turmeric
1/2 tsp garlic powder
1/4 cup water
1 large or 2 small plum tomatoes, diced
2 Tbsp fresh cilantro, chopped
4-6 cups kale or preferred greens
1 garlic clove, minced
1/8 teaspoon ground nutmeg
1 avocado, peeled and sliced
juice of 1 lime
salt and pepper to taste
Directions:
Put quartered potatoes in a small pot and cover them with cool water. Cover and parboil potatoes, about 5-7 minutes. Alternatively, you could place the potatoes in a bowl and microwave them for 4-5 minutes on high.
Heat oil in a large sauté pan on medium high. Transfer parboiled potatoes to the sauté pan and cook until browned, turning them halfway through.
When the potatoes are browned, add the scallions, onions and peppers to pan and cook, stirring until softened and tender, about 5 minutes.
Crumble tofu into the pan and let it cook until slightly browned, about 5 minutes.
While tofu is cooking, prepare spice mixture. Add spices to pan, mixing them well with tofu and vegetables. The tofu should be yellow from the turmeric. Add water to pan and mix. The water helps incorporate the spices throughout the scramble and moisten the tofu. Turn off heat.
Add tomatoes to the scramble and mix in the cilantro. Transfer tofu scramble to a bowl.
Prepare greens in the same pan. If pan is dry, add a bit more oil. Over medium heat, add greens, garlic, salt, pepper and nutmeg. Mix well and add a few spoonfuls of water. Cover pan and cook until just wilted and bright green.
Arrange a layer of greens on plates. Layer tofu scramble on top of greens.
Top with sliced avocado and lime juice. Enjoy!
---
Los Poblanos Shakshouka
Stew Ingredients: 
2 ea #10 can diced tomatoes or 3lbs fresh tomatoes
6 c yellow onion, small dice
1  c garlic, thinly sliced
2 T cumin seed, toasted, ground
2 T coriander seed, toasted, ground
1 T grains of paradise, toasted, ground
6 T NM red chile powder
1 t caraway, toasted, ground
3 ea bay laurel leaf
3 c dry white wine
2 ea oranges, skin intact
3 T olive oil
Salt to taste
Garnish Ingredients:
Fresh farm eggs
High quality extra virgin olive oil
Feta
Mint
Black pepper
Directions:
In separate large pot, sweat onions and garlic in olive oil with a little salt until almost translucent. Add spices and herbs and cook until fragrant. Add wine and reduce by half. Add tomatoes. Bring to a simmer and salt to taste. Cook until tomatoes have collapsed. Using a microplane, zest both oranges directly into the pot (so as not to lose a majority of the oil in the skin.) Cool or use immediately.
For service, heat one part garbanzos and one part tomato stew to a gentle simmer. Check seasoning and add water if necessary. Make a little well in the stew for each egg you are poaching, drop a couple drops of olive oil in each well. Crack an egg into each well and cover. Make sure the heat is very low and the eggs are poaching slowly in a gentle simmer. Once whites are cooked, remove from heat. Scoop egg(s) onto the side of a wide warmed bowl. Spoon stew into the middle of the bowl. Generously garnish with olive oil. Sprinkle with feta, mint chiffonade, and fresh ground cracked black pepper.
---
RAW KALE SALADS
Health foodies can step it up a bit by discovering how to make delicious raw kale salads—sometimes referred to as massaged kale salads. Literally massaging this hardy green with olive oil, salad dressing or mashed avocado softens it for easier chewing, brightens the color and improves its flavor. A favorite kind of kale for salads is curly green kale. Lacinato kale works well, too, as long as it isn't too large and tough prior to massaging.
Even when kale isn't the main leafy green in a salad, adding a few prepared leaves can up the nutrient value of any kind of green, grain or pasta salad. For each of the following recipes, start with a medium bunch of kale (about eight ounces), or more or less to taste. Finish each salad with sea salt and freshly ground pepper, if preferred.
Southwestern-Flavored Kale Salad
To the massaged kale, add two or three medium-sized fresh ripe tomatoes, a peeled and diced avocado, one to two cups cooked or raw fresh corn kernels, some red bell pepper strips and optional chopped green or black olives. Flavor with freshly squeezed or bottled lime juice, a little olive oil and some chopped cilantro. To up the protein for a main dish, add some cooked or canned, drained and rinsed, black or pinto beans and then sprinkle pumpkin seeds over the top.
Mediterranean Kale Salad
To the massaged kale, add two or three medium-sized chopped fresh ripe tomatoes, strips of sun-dried tomato, plenty of bell pepper strips and chopped or whole cured black olives. For protein, add a cup or two of cooked or canned, drained and rinsed, chickpeas. Top with thinly sliced fresh basil leaves.
Kale and Avocado Salad
Add a peeled and diced avocado, plus thinly sliced red cabbage to taste, sliced carrots, diced yellow squash, halved red and/or yellow fresh grape tomatoes and sunflower or pumpkin seeds. Optionally, add a little more olive oil in addition to that used for massaging and some freshly squeezed or bottled lemon or lime juice.
Asian-Flavored Kale Salad
Massage the kale with dark sesame oil instead of olive oil as an option. Add a medium-sized red bell pepper, cut into narrow slices, three stalks of bok choy with leaves, sliced (or one sliced baby bok choy) plus one or two thinly sliced scallions. Dress with a sesame-ginger dressing. Optional additions include some crushed toasted peanuts or cashews, steamed or boiled and chilled corn kernels and about four ounces of baked tofu, cut into narrow strips.
All recipes courtesy of Nava Atlas, author of Plant Power: Transform Your Kitchen, Plate, and Life With More Than 150 Fresh and Flavorful Vegan Recipes; used with permission.