News Briefs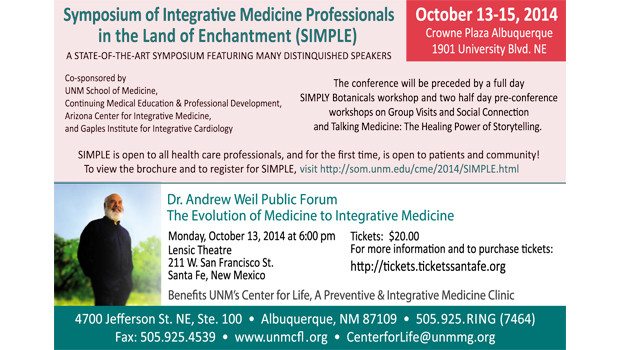 Published on September 29th, 2014 | by Publisher, Natural Awakenings New Mexico
0
Integrative Health Conference in Albuquerque
The Symposium of Integrative Medicine Professionals in the Land of Enchantment (SIMPLE) is being held October 13-15 at the Crowne Plaza in Albuquerque.
The conference is a state-of-the-art symposium on integrative health with a focus on cardiology, women's health, pain management, psychiatry, oncology, botanical medicine, palliative medicine and much more. Attendees will have access to the latest research in complementary and integrative health and preventive medicine, including lifestyle, nutrition, wellness, spirituality and stress management. For the first time, patients and community are invited to register for the conference as well.
Breakout sessions are a unique part of the conference that enable attendees to pursue specific integrative medicine interests, like mind-body and spiritual care, botanic and dietary supplements, body-centered care and professional development.
Dr. Andrew Weil is the featured speaker for SIMPLE 2014, as well as other internationally recognized leaders in the field. The conference will be preceded by a full day SIMPLY Botanicals workshop featuring a special session on "Cooking with Spices" with Dr. Andrew Weil and Dr. Arti Prasad and two separate half day pre-conference workshops on "Group Visits and Social Connection" and "Talking Medicine: The Healing Power of Storytelling." 
In addition, Dr. Weil will be speaking at the Lensic Performing Arts Center in Santa Fe at 6 p.m. on October 13. His talk, titled "The Evolution of Medicine to Integrative Medicine" will benefit the UNM Center for Life.
Location: 1901 University Blvd NE, Albuquerque. For details about the event including a downloadable pdf of the event brochure, visit som.unm.edu/cme/2014/SIMPLE.html.