News Briefs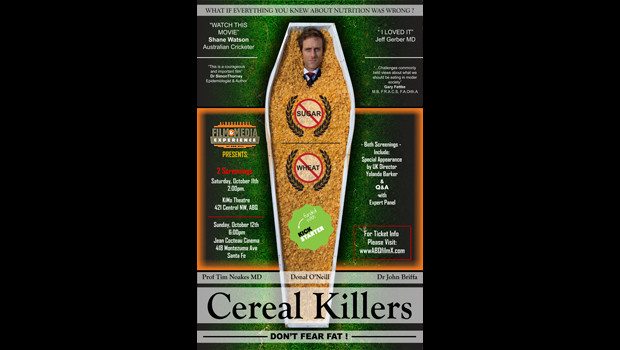 Published on September 29th, 2014 | by Publisher, Natural Awakenings New Mexico
0
Cereal Killers the Film
In the spirit bringing awareness, personal and societal change with our films, The Albuquerque Film & Music Experience (AFME) is proud to present two exclusive screenings of the film Cereal Killers. The screenings will be held October 11 in Albuquerque and October 12 in Santa Fe.
The film, which poses the question "what if everything you knew about nutrition was wrong," is both informative and funny. It features world-renowned nutrition expert, Dr. Noakes, who has sold more books on his work in his native South Africa then Nelson Mandela.
"It's been said that the key to weight loss is a low fat diet. Until now," says President of the AFME Foundation , Lainie S. Quirk. "Not since Super Size Me has a film come along to wake up the senses, dispel the rumors and knock us right into a completely new mindset for long term health and well- being."
A Q&A session will be held after each screening where the audience will get a chance to interact with Cereal Killer Director, Yolanda Barker; Dr. Carole Conn, head of Dietetics and Nutrition at UNM; and Laura Fox, founder of the Raw Living Expo. Attendees will gain new perspectives on the high fat, low carb, no wheat or sugar diet plan. "See how these theories are truly paving a path to weight loss as well as those afflicted by heart disease or diabetes," says Quirk.
 
Date/times: October 11 at 2 p.m., The KiMo Theatre in Albuquerque; October 12 at 6 p.m., Jean Cocteau Theatre in Santa Fe. For more information, visit ABQFilmx.com.