Local Insights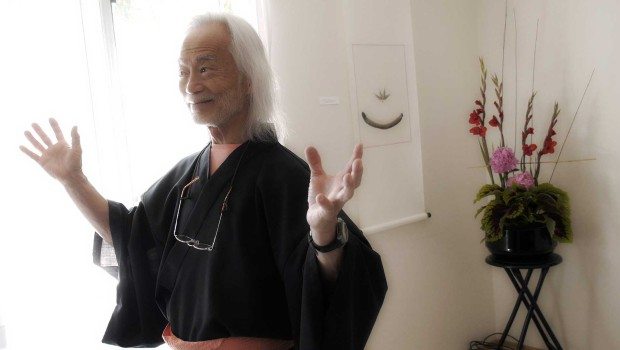 Published on June 30th, 2014 | by Publisher, Natural Awakenings New Mexico
0
The Zen Dude Effect
by Andrea Schensky Williams
Moving from Emptiness: The Life and Art of a Zen Dude. The film was released February 25 in Sedona, Arizona, by husband and wife filmmakers Jerry Hartleben and Shaeri Richards and was shown June 7 during the Albu- querque Film and Media Experience (AFME).
This transformative film allows viewers a peek into the life and work of internationally acclaimed Zen calligraphic painter Alok Hsu Kwang-han. Kwang-han has a diverse background in mathematics, Christian theology, sociology and psychology of religion. However, according to the ZenDudeMovie.com website, he is "best known for his singular work of creating zen calligraphic portraits combined with exploration sessions for individuals, couples, families and organizations."
Alok is a truly Zen dude who believes that creativity comes "from emptiness, from that silent space that houses the intelligence prior to thought. Armed with rice paper, ink, brush, and a collection of Zen teachings and koans, he unlocks a magical door for his students."
Moviegoers get to experience Kwang-han's unique teaching method, which includes "teaching painting
'by not teaching painting.' Instead he shows students how to get out of their way, so that 'creativity happens on its own.'" Kwang-han's workshops are more than just art classes. They are about opening up, letting go of ego and the ever-controlling mind. A Zen painting can be anything. There is no judgment—only energy expressed with ink on paper.
While Alok's students are being taught Zen calligraphy, they also learn to let their creative energy flow effortlessly. The ZenDudeMovie.com website states, "One scene showed one of his students recognizing that sometimes it's good to leave things alone in their raw state of expression rather than tempering and alter natural expression. He uses meditation, qigong and other unconventional methods to allow his students to become open and uninhibited. Interwoven in the movie is the love between Alok and Raylene."
Kwang-han's partner, Raylene Abbott, began painting Buddhas and Bodhisattvas after attending a four- year meditation retreat. She spent years trying to paint the Bodhisattvas. During a breakdown phase in her life while living in the South of France, it finally happened. On her website, ZenArtAndTea.com she writes: "On a warm summer day, I was painting outside on the porch with water colors. I began to just allow my brush to freely fly across the paper. And there she was, my first painting of Yi-yao Gwanyin (Medicine Guanyin). It was exactly what I was looking for in all the years of my painting."
Not surprisingly, shortly after this event she saw Alok on Facebook and friend requested him. Several days later he sent her an image of a painting called "Surprise by the Beloved." What happened over the next few weeks surprised her. The painting that Kwang-han sent touched her on a deeper levels. "The image came alive in me, and acted like electric shock to my creativity. I started exploding with creativity," she writes. She began assisting Kwang-han with his painting workshops on "The Creativity of Non-Doing" and the rest is Zen-inspired history.
Hartleben, a former childhood actor, has 30 years of experience as a director of photography for TV and film.Richards brings a multifaceted experience as a filmmaker, author, speaker, hypnotherapist, musician, improv artist, and actress to the film. She has helped write and produce documentaries for PBS, short films and a spiritual self-help book titled Dancing with Your Dragon: The Art of Loving Your Unlovable Self.
To watch the film trailer and to learn more, visit ZenDudeMovie.com.
On a more personal level, one can have his or her portrait done by Zen Master Alok. This is not an ordinary portrait. It's a journey of self-discovery, as Kwang-han tunes into his subject's soul through gentle conversation and allows him or her to release what needs to be released. The process takes about two hours and results in the subject feeling lighter and receiving his or her own personal portrait as a result of his or her healing journey during the session. I can't wait to receive mine in the mail.