Spotlight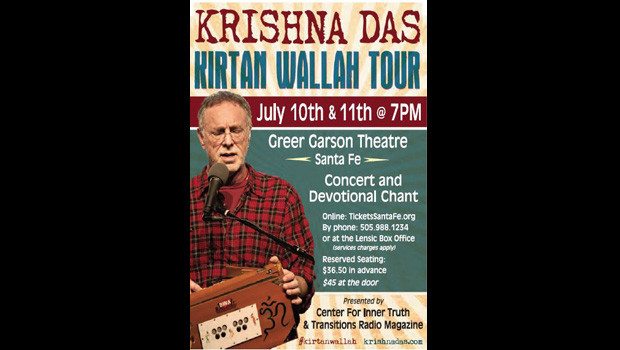 Published on June 30th, 2014 | by Publisher, Natural Awakenings New Mexico
0
One Track Heart: The Story of Krishna Das
The movie One Track Heart: The Story of Krishna Das, directed by Brooklyn-based documentary film- maker Jeremy Frindel, won the Jury Award for best documentary feature on June 8, the second year of the Albuquerque Film & Media Experience at Nob Hill.
This fascinating documentary is the true story of Jeffrey Kagel, a young musician and would-be lead singer of the band that became Blue Oyster Cult, and how he became Krishna Das (KD). Instead of seeking out rock and roll stardom, Kagel sold all of his possessions and moved to the foothills of the Himalayas in search of true happiness.
The OneTrackHeartMovie.com website states, "One Track Heart: The Story of Krishna Das follows Kagel's journey to India and back, his struggles with depression and drug abuse, and his eventual emergence as Krishna Das—the world-renowned spiritual teacher, chant master and Grammy-nominated recording artist. One Track Heart is the inspiring story of how one man's journey continues to transform countless lives."
Frindel felt a strong connection with Krishna Das because of similar life experiences. Like KD, he had a love for rock and roll and had to overcome struggles with drugs and the darkness surrounding that period of his life. Yoga, chanting with Krishna Das and listening to KD's stories about India helped Frindel through this phase of his life. He resonated with KD's honesty and trusted him. The introduction to KD was made through his longtime yoga teacher Darma Mittra, who was friends with KD. As the relationship blossomed he humbly asked if he could make a movie about him and KD casually agreed. KD's manager, Nina Rao, shares that he had been approached many times in the past and KD would always say, "No, that it did not feel right."
The film took three years to make and was released to theaters by Zeitgeist Films in 2013. It was
Frindel's first feature film, and he made it with no prior camera experience. After a dear friend lent him money to start funding the movie, he received instructions from another friend on what camera to buy and how to use it. Two weeks later he was off and shooting the entire film by him- self.
The sequence of events was divinely orchestrated. The process of making the movie was a transformative experience for Frindel as he had the opportunity to travel with KD and connect with the amazing beings that are part of KD's community. During the film, Frindel focused on the love story between KD and Neem Karoli Baba or Mahariji and the common thread of losing and finding his love.
Krishna Das fans will have an opportunity to see his live concert at 7 p.m. on July 10 and 11 at the Greer Garson Theatre in Santa Fe.