Business Profile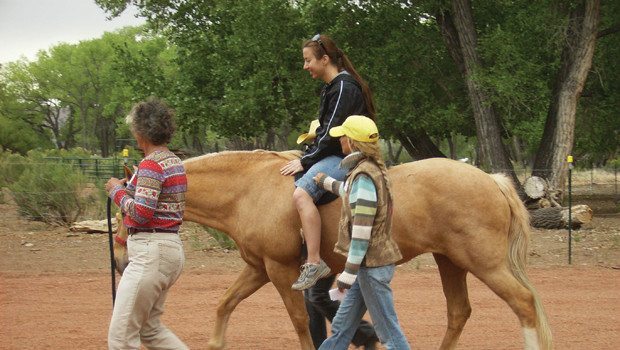 Published on October 31st, 2013 | by Judy Schneider
0
Healing Through Horses
When Healing Through Horses attends an event or an expo, people frequently ask "What do you do with the horses?" "How can they help me?" "Are horses specially trained to do this kind of work?"
It is always a pleasure when someone asks these questions. It offers an opportunity to share how the horses can be of assistance to anyone who has a desire to be fully engaged in their own growth and healing.
Equine Inspired Coaching is an alternative to traditional coaching as it is experiential in nature. It invites your spirit, mind and body to work in unison. As an eclectic practitioner, Judy Schneider incorporates Gestalt, somatic awareness as well as other modalities when it is called for. The beauty of working with horses is that they are the healers and Schneider is their partner. Schneider guides the work; however, the horses are the ones who create the opportunity for deep healing and spiritual restoration.
"Through gentle inquiry, we identify what is on your mind and in your heart in the moment on this day," explains Schneider. "Imagine that you are in the midst of releasing something you have been dealing with for years. You may have created specific ways to help you deal with this difficult time in your life. You find what you have created has worked fairly well; however, you want to let go and live your life more fully. Imagine what it would feel like to be able to live in the flow and attract what is truly important to you. Through your emotional awareness you will have gained more self-confidence to enable you to go after what you really want and desire."
According to Schneider, horses have the natural ability to tune into us. They are highly sensitive beings that respond to energy and react accordingly. Often times, Schneider has seen someone who is fearful of releasing what no longer serves them. "As we move deeper into the release, I will inquire where in their body do they feel any sensation, heat, etc. As we are exploring the chakra's, horses that have either been selected or have selected themselves to be the healer may walk over and place their body where the somatic tension is held." In this moment of contact, one is encouraged to be still, to allow their emotions to flow and to leave their body. By trusting the horse, they have allowed themselves to move forward, to create more balance, to achieve the results they want in life with less pain, and more joy.
"When you are in the presence of a horse it is very hard not to be authentic and honest," says Schneider. "Picture yourself out in a pasture with horses that are roaming around in their natural environment. They become curious of their new visitor. They may observe you from a distance, acknowledge your presence with eye contact, walk over to you and allow for personal contact. When personal contact is made, the horse is giving you permission to engage and become more part of their world. This dance of intimacy is slow, deliberate and purposeful."
A sanctuary of learning, growing, healing and loving awaits you on a small ranch in Abiquiu, New Mexico. Judy Schneider, founder of Healing Through Horses, is dedicated to healing the human spirit through horse. She has developed a variety of programs, all centered on the healing powers of the horse's spirit.
Equine Inspired Counseling, empowers children, teens, adults, couples and families to overcome barriers to personal growth and development.
Equine Inspired Coaching, strengthens those seeking to create more balance and experience new levels of personal empowerment.
Equine Inspired Retreats for Women, offers women time for themselves, to celebrate and rejuvenate their souls, connect with other like-minded women, and experience how horses can empower them to become the curator of their own lives.
If you are inspired to learn more about Healing Through Horses, contact Judy Schneider at 505-685-0596 or Judy@healingthroughhorses.com.