Local Insights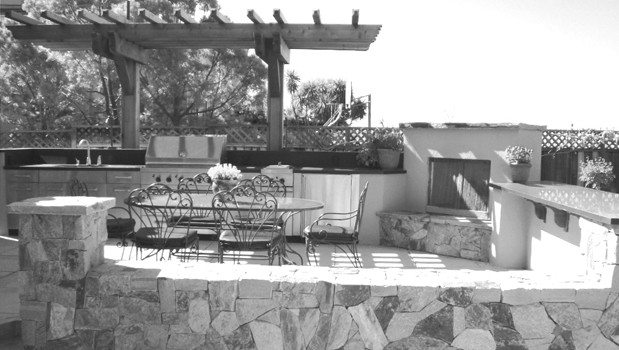 Published on June 28th, 2013 | by Susan Combs Bauer
0
Ultimate Outdoor Kitchen Design
Adding an outdoor kitchen to your backyard is the perfect excuse to go outside and play. Once you determine your ideal location, then the design and shopping fun begins. Creating a practical outdoor kitchen starts with a well-planned layout. For the ultimate outdoor kitchen, follow these design guidelines:

Plan for enough counter space: Allow for a minimum of 12" on one side of the grill or pizza oven, and 24" on the other side. For sinks, allow for 18" on both sides. Under-counter refrigerators need a minimum of 15" of counter space on top.

Determine your zones: Hot zone (grill, cooktops, oven); cold zone (refrigerator, freezer, wine chiller); wet zone (Sink, ice bin, beverage tub); and dry zone (prep areas, counters, and cabinets for storage). Arrange the zones for easy flow between preparation areas, cooking and serving activities.

Preparation spaces: A comfortable prep area is 48" long x 24" depth minimum. However, no one has ever been disappointed with more counter space. Consider a 72" long prep area or 158" for larger outdoor kitchens.

The typical configurations include straight line kitchens, L-shaped kitchens and U-shaped kitchens. Space, budget and entertainment style will all be taken into consideration when choosing your layout.

Whether you're looking to create a simple, budget-friendly kitchen, or an impressive backyard focal point, you're sure to enjoy cooking in the great outdoors.