Spotlight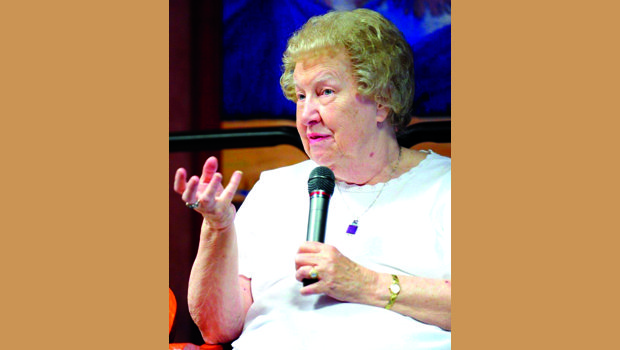 Published on June 28th, 2013 | by Publisher, Natural Awakenings New Mexico
0
UFO's, Hypnotherapy and Miracles
A Conversation with Dolores Cannon
I met the fascinating Dolores Cannon during the Albuquerque Film and Media Experience in June. She was in town as a speaker for several panels, promoting her company's books and movies the company is sponsoring.
Cannon is the author of 17 books, a world renowned hypnotherapist, and the founder and owner of Ozark Mountain Publishing, headquartered in Arkansas. She also conducted UFO investigations for 25 years resulting in four books about UFO's. Years ago, she and her husband accidentally discovered past lives and reincarnation during hypnotherapy sessions with clients. Afterwards, she wrote the book Five Lives Remembered describing the initial experiences.
NA: Many people are not familiar with your work. How should they start?
DC: A good beginner's book is Between Death and Life. It describes what happens when you die. The book answers questions about God, Jesus, Hell, reincarnation and metaphysics.
NA: Have you yourself experienced UFO encounters?
DC: No, never. I am the reporter and investigator. I do not want to be personally involved in order to stay objective. When I work as a hypnotist with my clients I receive information through them. As a reporter I put the pieces of the puzzle together.
NA: How did you develop your technique?
DC: Even in the 70's there was nothing about past life regression. I created my own unique method of hypnosis called Quantum Healing Hypnosis Therapy. I regress people very fast to the deepest Somnambulistic level. A person in that state will not remember anything because the conscious mind is out of the way. At that level you receive pure information. Since then my work evolved to producing incredible healing results through this technique. This method heals people from any disease or illness. I see miracles in my office every day.
NA: What type of illnesses have you seen improve?
DC: Every type imaginable; the most life-threatening diseases. People scheduled for surgery no longer need the surgery to the amazement of their doctors. No-one should ever be sick or have any type of aches and pains. The body is a miraculous machine designed to heal itself if we don't interfere.
NA: Do you facilitate long distance sessions?
DC: The sessions have to be done in person. I have a five year waiting list and can only see patients with life threatening illnesses. That is why I am teaching my method to students all over the world. Online classes are available for Level 1. Level 2 and the new Mentor Level have to be taken in person. Local practitioners can be found online through DoloresCannon.com.
NA: How do you get the guidance for the themes of your books?
DC: Through my clients. It may start with one client in one place of the world and then repeats itself over and over until I collect so much information to write the book. I usually receive the information at the end of a session. This is how the Convoluted Universe series started which covers the gamut of ET's, other dimensions and then changed to metaphysics covering the mysteries of the earth, like Atlantis, the Bermuda Triangle, Loch Ness, etc. This series is getting more and more complicated and now THEY want me to start on Book 5.
NA: Who are THEY?
DC: It is the greatest power in the universe residing in everyone and everything.
NA: Is there a metaphysical aspect to aliens?
DC: They are beings just like us. The soul goes from different bodies throughout different lifetimes. You have a body but you are not a body. Most people have been ET's in past lives. ET's don't understand why people are so afraid of them taking over the earth. The earth always belonged to them. Why would they want to hurt their own children?
What are your future plans?
We have a big conference in Arkansas starting July 19. I am also working on three books: Convoluted Universe Book 5 and two books on magic and reincarnation that are nearly finished. I teach classes all over the world and there are future plans to start movies about my books.
Natural Awakenings magazine and its readers thank Dolores Cannon for her body of work and the contributions she is making to humanity. Her books and workshops can be purchased through DoloresCannon.com or OzarkMt.com.