Spotlight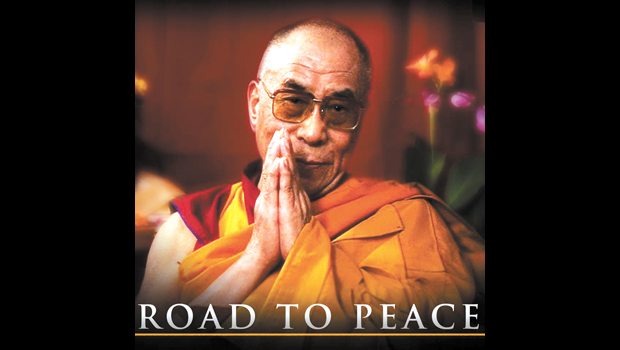 Published on June 28th, 2013 | by Publisher, Natural Awakenings New Mexico
0
Road to Peace with the Dalai Lama
Narrative by Judith Byrne, Interview by Andrea Schensky Williams
The Road to Peace, a documentary film about the 14th Dalai Lama of Tibet by director Leon Stuparich, will prove itself to be a work of great importance from both a historical and spiritual perspective. This gift from the director to the public at large gives viewers a glimpse and a sense of what it is like to meet His Holiness in person. We see and hear the Dalai Lama sharing his views on inner peace and universal responsibility.
The inspiring film leaves us with a vision of a remarkable man, a disciplined Buddhist monk, and a spiritual leader, who is a living and loving example of the truth principles of love, compassion, peace and taking responsibility for the world in which we live. He calls us to action with the importance of Universal Responsibility and getting involved in the community. What a timely mirror he is for all of us.
In addition, the music by Grammy Nominee Nawang Khechog totally transports us to a different culture and a timeless sense of space.
As a sponsor of Albuquerque Film & Media Experience (AFME), Natural Awakenings attended the screening of the film and had a brief conversation with Leon Stuparich.

NA: How much time were you able to actually spend with the Dalai Lama while making the movie?
LS: We filmed for two weeks, but being in his presence felt like years. Getting a glimpse of his process and seeing firsthand the special effect he has on people has been an inner journey for myself.
NA: The movie skillfully portrays the Dalai Lama's sense of humor. Please share your personal experience.
LS: Yes, sometimes he patiently waited 10 to 15 minutes rocking back and forth before going on stage. Occasionally I had to adjust the microphone and sometimes I accidentally hit his bottom which triggered a hearty outburst of laughter from him.
NA: How does the Dalai Lama prepare for his many appearances?
LS: He meditates every day for four hours, but he goes on stage without a prepared script. He speaks genuinely from his heart. One of his daily practices is to reflect on each single occurrence or situation he encountered. Were his actions harmful or positive? This daily practice creates an uncanny awareness of self and his effect on others. He has no agenda. His only purpose is to spread the message of peace from his heart.
NA: What were some of his important messages in the movie?
LS: One of the main messages is a "Call to Action." He calls upon the spirit of determination of Mongolian leader Genghis Khan as a motivating factor the Tibetans called on to work through the crisis with China. Determination can be used as a tool to fight for peace.
NA: What is happening in Tibet now since the Dalai Lama has given up his political leadership?
LS: He relinquished his leadership to the prime minister of Tibet which now is a democracy. During his travels all over the world people were trying to politicize his message of peace by asking him redundant questions about the political situation in Tibet and China. As a Buddhist monk his main focus is promoting peace without politics. His mission is to enlighten and lift up people to free them from oppression.
NA: What led you to switch from commercial television in Great Britain to creating a movie about the Dalai Lama?
LS: I started at the age of fifteen in the business and very early on discovered what I had to do to manipulate stories for entertainment purposes. This sensitized my barometer between right or wrong. If you listen to that barometer life becomes extremely simple.
At the same time, I embarked on my own journey and got involved with Buddhist and spiritual films part-time which led to the fortunate opportunity to interview and follow the Dalai Lama. I was leading a dual life between my commercial, morally questionable day job and my spiritual journey with the Dalai Lama. Nobody in Great Britain was interested in a spiritual portrayal of the Dalai Lama, yet the money I earned through my day job came in handy to fund my project. Being around the Dalai Lama made me see clearly that I no longer could lead a dual life. He inspired me to follow my heart and dedicate myself full-time to the movie.
Now on DVD, this is a film you will want to have in your own library to share with family, friends and your community. For more information, see RoadToPeaceFilm.com and Facebook Road to Peace.