Spotlight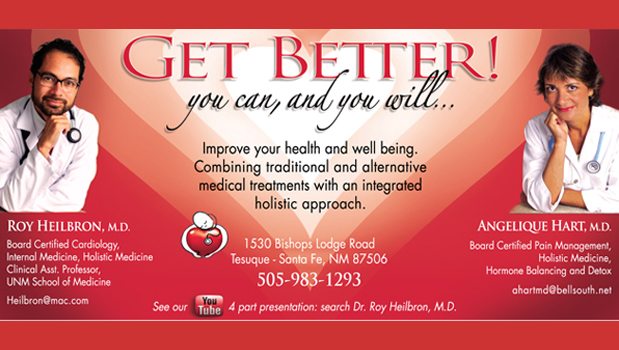 Published on March 11th, 2013 | by Publisher, Natural Awakenings New Mexico
0
The Jump Start Program
Angelique Hart, MD, and Roy Heilbron, MD, are holistic medical doctors with 26 years of combined experience. The pair specializes in pain management, hormone balancing, holistic cardiology, internal medicine, and brain chemistry balancing. And now they have one more tool at their disposal—it's called the Jump Start Program and according to Dr. Hart, "The Jump Start Program is one of the fastest ways to regain your health, detoxify and become symptom-free."
The doctors have seen what they consider to be miracles with this approach. "For example," says Dr. Heilbron, "We had a patient referred to us for heart transplant, unable to even walk one minute on the treadmill; legs swollen like tree trunks. After six weeks on the program, the patient walked over seven minutes on the treadmill, lost the swelling in her legs, and recovered over half of her heart function. She no longer needs a heart transplant and is doing great one and a half years later."
And that's just one of many success stories. "We had a patient that was over 300 pounds lose 75 of those pounds after 60 days," says Dr. Hart. "Another patient with chronic fatigue, allergies, anxiety and depression couldn't go six minutes on the treadmill. Now this person can go over 15 minutes on the treadmill, has no more allergies, and feels great. And a different patient with a 99 percent blocked artery could only walk for one minute. After five weeks, 90 percent of the blockage is gone and this patient can now walk for 26 minutes on the treadmill. I have been so impressed with the results, I do it myself now twice a week."
So what exactly is the Jump Start Program?
For years, the doctors have worked to invent, develop and combine these different elements to create what they consider to be the most effective program on Earth. The program consists of I.V. chelation over 2.5 hours, while concurrently doing several other therapies including EWOT, HeartMath, EECP, Biocharger and FIR Sauna.
I.V. Chelation:
This  is a mix of EDTA (a powerful antitoxin), high dose vitamin C (7,000 mg), thiamine, B-12, heparin, magnesium and bicarbonate (to reverse acidity).
EWOT:
Exercise with oxygen therapy for 15 minutes. Tissue oxygenation is the key to healing. It gives the patient the ability to exercise without feeling tired.
HeartMath:
A computer-based biofeedback system to reduce adrenaline release and rebalance the autonomic nervous system. 15 minutes.
EECP:
Enhanced Extracorporeal Counter Pulsation. This FDA approved machine gently squeezes the legs creating healing of the arteries and oxygenation of the body, flushing of the liver, and oxygenating the brain in a unique way. One hour.
BioCharger:
The BioCharger device stimulates the body on a cellular level in order to increase health and well-being.
FIR Sauna:
Far infrared sauna for 15 minutes. Far infrared heat helps a person to secrete toxins much faster than a regular sauna.
Angelique Hart, MD, and Dr. Roy Heilbron, MD, have a clinic located at 1530 Bishops Lodge Rd., Santa Fe. For more information on the program, call 505-983-1293 or email at Heilbron@mac.com.