Spotlight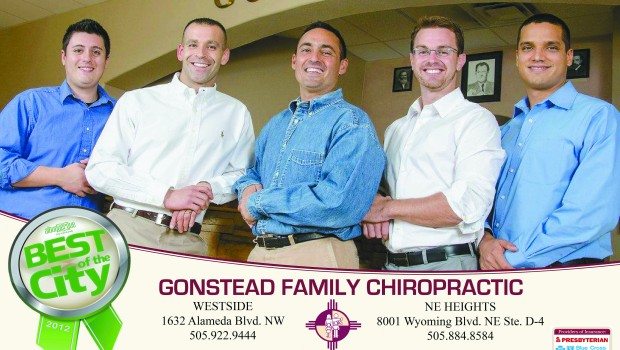 Published on March 11th, 2013 | by Publisher, Natural Awakenings New Mexico
0
Gonstead Family Chiropractic
Gonstead Family Chiropractic believes everyone deserves to feel great. For more than 15 years, Gonstead Family Chiropractic has been committed to helping people to lead healthier, more active lifestyles without the use of drugs or surgery.
The Gonstead method of chiropractic takes a uniquely specific approach to locating the area needing treatment, addressing only the joints that require attention (spinal and extremity). The Gonstead technique involves x-ray analysis, inflammation reading instruments, and the experienced hands of the clinic's doctors. All of these work together to give the patient the most detailed and safest adjustment.
Both office locations provide full spine chiropractic care, extremity treatment, digital x-rays, non-surgical spinal decompression, nutritional consultations, diet and exercise plans, massage therapy, cold laser therapy, orthotics, and prenatal and geriatric care. Most insurance plans are accepted. The practice's multiple doctors are available to review cases, providing strength in numbers with a combined experience of over 30 years. They have helped people with low back pain, injuries from car accidents, disc issues (including sciatica), headaches, extremity pain, gastrointestinal issues, fibromyalgia, and many more things that are affected by the spine and nervous system.
The practice has earned an excellent reputation within the community winning "best of the city" of 2012 by Albuquerque the Magazine, while gaining the respect of peers and other professionals on both the local and national level.
Two locations: Northeast Heights Clinic, 8001 Wyoming Blvd. NE, Suite D-4, Albuquerque; call 505-884-8584 and Westside Clinic at 1632 Alameda Blvd. NW, Albuquerque; call 505-922-9444.