Local Insights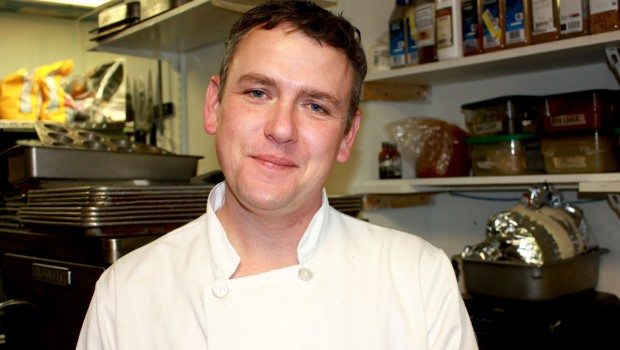 Published on March 6th, 2013 | by Publisher, Natural Awakenings New Mexico
0
One Chef's Key to Health
Eat organic and whole ingredients cooked from scratch
Last month BODY Café released a new menu, refining its focus on sustainability and being gluten-free. Chef Matt Fox took a few moments to talk about the changes.
What were the inspirations behind the changes made to the new menu and why are those reasons important?
The new menu at BODY was inspired by a desire to promote truly good food. Good food should do three things: nourish the physical body, be beautiful in appearance and be extremely enjoyable to the senses. At BODY Café we are inspired to achieve these three goals in our new menu.
What do you think are the key components of a healthy and dynamic diet and how does the BODY Café menu reflect them?
The components of a healthy diet in my opinion are as follows: use organic and whole ingredients cooked from scratch which give your body the nutrients it needs. Organic and whole food increases your resistance to diseases and increases the body's natural healing powers. But, most importantly, food must be prepared in a way that makes eating it enjoyable, which is of utmost importance at BODY.
Talk about the gaps in the Santa Fe culinary community. How does BODY Café fill those gaps?
BODY, to my knowledge, is the only organic-sourced restaurant in Santa Fe focusing on raw, vegan, vegetarian cuisine. We also offer amazing, locally-sourced meats, such as our incredibly popular lamb burger.
Is being gluten-free actually important for people who don't have celiac disease or is that just a fad diet?
About fad diets, I once read that North Americans are the most health / diet obsessed nation, while at the same time being the most unhealthy. That said, there is a very real and demonstrated concern about meals full of high glycemic index foods—such as wheat bread—that cause a rapid rise in blood sugar, which is linked to high blood pressure and increased risk of diabetes. At the end of the day I think a person has to evaluate for themselves: do you feel better when you abstain from gluten? If so, then maybe going gluten-free is a good decision for your health.
Tell me about some of your favorite new additions to the menu. What's so attractive about those items?
The new menu has a lemongrass prawns dish served with sesame crisps and an asian slaw. It is the perfect fusion of aromatic seared spicy shrimp, flaky sesame crisps, paired with a fresh-ginger-dressed jicama and cucumber salad. It is light, flavorful, delicious and filling all at the same time.
It has been suggested that you have luddite tendencies (Matt currently does not use e-mail). Why are you a chef at BODY Café and not an Amish farmer in Pennsylvania (or pursuing a similarly tech-free career)?
Being a chef is the perfect environment for my luddite / tech-free tendencies. We are not doing molecular cooking at BODY Café, which is basically using food, processing chemicals to alter food's chemical properties. I am using organic fresh whole ingredients, applying the skills learned over the last twenty-five years in kitchens and creating delicious wholesome, nourishing dishes that make the body feel good while at the same time satisfying the senses. Cooking is the most ancient art, using simple ingredients like food and fire, which is about as technical as it needs to be.
BODY of Santa Fe is located at 333 W. Cordova Rd. in Santa Fe. For more information, call 505-986-0362 or visit BodyOfSantaFe.com.  
New menu items include: Raw "Fried" Onion Rings, Green Chile Polenta Fries, Southwest Chopped Salad, Pepita Crusted Goat Cheese, Sesame Jicama Salad, Lemongrass Prawns with Sesame Crisps, Spicy Cashew and Lime Cod Rolls, Sesame Crusted Tofu with Orange Reduction.